Simple Love
August 3, 2014
He was the first.
The first boy I ever
let in.
I tore my walls down
for him.
I let him make me
smile.
I let him be the cause
of my laughter.
I let him
know my best,
and my worst.
I let him see me
for who I really was:
A scarred broken girl.
He promised to fix me
and fixed me he did.
He promised me, "eien ni."
And I believed him.
Then I got his call,
that one afternoon.
I didn't know that, "eien ni,"
meant six months.
He ripped off my band aids,
tore out the stitches,
rubbed salt in the wounds
that he had healed.
I blamed myself.
It was my mistake
for letting him in.
"Never again,"
I vowed.
And that vow stayed strong,
even with the second
and with the third.
But the fourth boy,
was different.
He was real,
tangible.
He didn't promise me,
"Eien ni."
He didn't try to fix me.
He just simply let me
be me.
He just love me,
simply.
It wasn't built on
a broken girl.
It was something more surreal,
but it was the most real.
With the second
and the third,
I didn't let myself.
No more than I had to.
Because I am a
scarred broken girl.
But with the fourth boy,
I felt whole.
But he didn't fix me,
he just helped me realize
that I could fix myself.
I let myself,
for the first time
since the first boy,
fall in love,
in the most simplest
of ways.
Because he simply
let me be
me.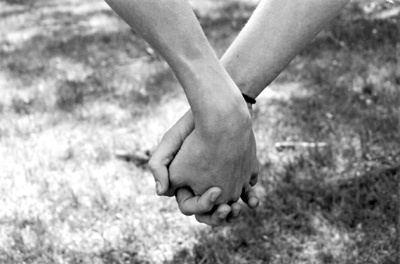 © Alexa T., Pompton Plains, NJ