Life's Library
September 6, 2014
Through life, we as people collect stories.
We are nothing more than a summation of those tales,
The actions of past memories,
Will both define and haunt us through the ages.

The library of our lives, the chapters of our stories,
Contain pages of all happenings and emotions.
The heroic pages are charred,
The tragic pages are scarred,
The comedies stained with tears of joy,
While the romances smell of sweet late nights with a girl or boy.

No library is complete,
Without every genre,
For if one library only contained comedy,
The pages turn dry and the library's just a bore.

The library of a person's life,
Can be read through their eyes,
As windows to the soul,
They turn the pages of time.

No matter how vast, or how small,
The library will contain it all.
Just look into a persons eyes,
young or old, And you will see the leather bound books of their lives.

Look into my eyes and you'll see a deep weight,
Accompanied by a smile.
Read my books and you will know,
The Atlas that carried his world.

Comedy is accompanied by tragedy,
Misfortune accompanied by fortune,
And when I look into your eyes,
I read a library ready for more stories.

So whatever tragedies have been written,
The comedies will be strewn ten fold,
Where realism takes a selfish spot on a shelf,
so too shall the mind's greatest fantasies.

 
In the Library of Life, our stories are our own.
We dedicate pages, chapters, books, and sections,
To events, places, people, and their connections.
The point is to fill up the library with all that we've wanted. So rereading the pages leaves us content.

Our libraries are missing true romance,
Our libraries are missing adventure,
So I suggest, that you and I:
Fill out those missing pages together.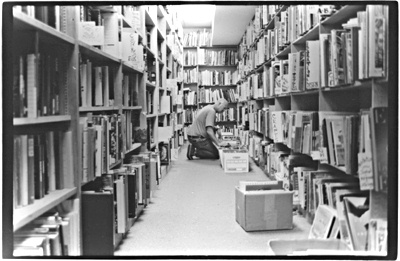 © Benjamin K., McLean, VA