Child Song
MAG
November 26, 2014
Proudly, the sun explodes and breaks
the dew
That now rests upon your rosy lips.
The winter has turned the Earth to stone:
The fragile sycamore all black now, the autumn leaves lost in translation,
And the spiral stair that stood so tall
Has now descended into dust.
The clocks hold time,
But not for the birth house, where you lay
The floral whispering against your pink skin,
Eyes not yet open to the cruelness of the world. Your mouth made a cavity,
And your blue cry
Took its place among the elements.
Stillness is a story I told you on the first day;
Your tiny fingers danced my own,
the incubator a ballroom
For new lovers to lock hearts. Your nails stayed blue,
And your head stayed empty. I watched the moon's gallant swing,
From the window, where dusk seemed to fall
Every time you took a breath.
It seemed peculiar that you did not stir to
the vicar nor nurse,
Though both came laden with words for you. They said coo
And ahh, but only I knew it was nonsense. No one could love you like I do.
Days passed. I made maps, my stomach dropped. The scar was invisible
Beneath the bedsheet, that first time they
lay you on my breast.
Now the sky had opened up, and in it
your eyes expelled all manner of silence.
Once you said mother, too, and my soul implored you. Such small bones,
What hollow lungs that spewed birdsong,
a whimpering of newness,
And I was old. The nurse came back then.
The vicar didn't.
A final hour, and she brought a needle.
Your seal was broken
And your cry was, too. She took you,
Christ knows where. I paced linoleum,
I played God. In my head, reel-to-reel,
your voice stirred,
And the moon had fallen out of the window.
Only now did stillness rest on the room,
and you were not there to see it.
At midnight she returned, but somehow
the rustling had fallen from your hair,
The sterile tinge of your newness. Her face was stuck,
A symphony of certainty, a glimmering
of guilt.
In my gurney, she laid you on me.
Your finger would not grip mine,
And below me the ballroom doors were
all shut up,
For the lovers had found someone else.
Sorry, her tongue said. The moon had died.
The perilous, glorious moon.
I could hear it from here, while
Back at home, your new cot wailed,
Dainty gloves, a fading tear. The walls
were lined with your name,
The paint that called out for you over
and over again.
Quietly, the papers came, and the crooked arch of my hand found them.
On the same day, I handed you back to God.
Love is forever, but stillness is not.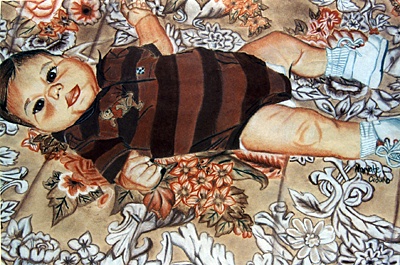 © Maryate O., Kannapolis, NC