I gave you my hands
February 18, 2015
I took my hands off for you
So you could know that I would never again
Grab for anything but you.
Then came my feet, my legs, my thighs-
My foundation.
(Maybe you could be my foundation)
I chopped each one
And as the iron-scented glue that had once held me together
Ran down into the carpet,
All I could think about was how excited I was to give myself to you.
I peeled off my skin.
Maybe you'd finally realize that beneath it all,
I'm something significant?
(And maybe you'd let me see under your skin)
I didn't want to give you my eyes.
I'm afraid of the dark.
(But you'd be my light)
In spite of myself I scooped them out
And I whittled myself away.
I wrapped up my lips- my secrets.
Tied up my lungs- my voice, calling out for you.
My brain was the easiest.
My thoughts are a mess anyways.
I was glad to be rid of it. But,
I kept the last of me for an extra second-
My heart. My beat. My love. My life.
I wanted to put me back together,
But I carved it out anyways.
All for you.
And suddenly I was nothing.
I consolidated myself and presented me to you-
A red and pink package,
Entirely exposed.
I arrived on your doorstep.
You were cautious while you opened me.
You took up my hands.
I wanted you to be my reach.
You let them, me, fall.
You lifted my legs, cringed, whispered, "damn,"
And tossed them aside
And delved further into the package.
You unfolded my skin and stretched it and screamed.
You despised what was under it.
You saw my eyes nestled into the parcel,
So you immediately closed yours.
Seeing the way I saw was an abomination.
Not allowed. Against the rules.
You stamped them out and squish- two little grapes, pop.
Rejection feels worse when you've dissembled yourself.
You destroyed my lungs- my voice, silenced.
You banished my lips- my secrets I should have kept.
And laying at the bottom
Of that red-stained white box,
Lay my four chambers- lub dub, dub-
Bleeding for compassion and understanding.
But you packaged me back up.
"RETURN TO SENDER" you wrote next to your address.
You wanted none of it so you shipped me away.
Gave me back to me.
But I was too far gone.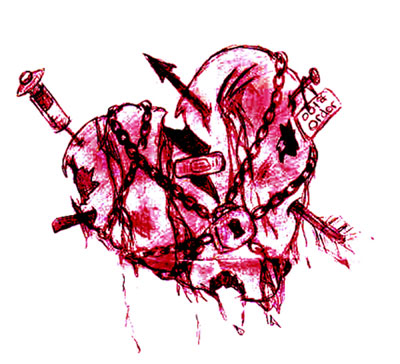 © Asia B., Hudson, MA