Harlem Beat
March 29, 2015
Undone workin' boots and suede worn shoes
on the old wooden waxed floor, tappin a one-twos
the scit scat-scat and squeal of brass,
has my heart stirring oh-so-fast
this Jazz is written in my soul
A look 'cross the room i stole
to the man i knew as Langston Hughes.
Now his rhythm was a jibe
and his emotions were synchronized
I looked at him and he looked at I
"Oo ooh ooh!" hummed his tune,
for we was both enjoyin' the Blues.
But one thing i know better than best,
is Hughes could speak,
and my words were oppressed.
the home i feel next to the piano, drum and sax
greeting here us, poor n' lonely blacks
the music never judged a Negro.
Here Hughes took in the tune, made it his ego
Wrote it all out-- how it felt to shout-- in liquid song.
We was screamin' and hollerin' and laughin' and whistlin'
Cryin' and prayin', "Oh lord, what is we missin'?"
A --boom boom boom-- from the walls was his voice,
"Listen now, men, you best not pity, rejoice!"
And the sax got hushed, the drum roll light, I closed my eyes
and thought This man is right--
A black is black, a white is white.
And I got none but forty-five dollars to my name.
'Aint nobody's issue but sure is to blame
on the color you was given to wear for life.
Hughes taught us Negros that in strife
we had no difference to them,
     if we were blind
but for those who could see,
     should be kind
The reason you hear the Blues
is my life, my source of muse
"Embrace it, for black is beautiful"
From our hearts we can be fruitful
I looked up at him and he down at me,
I said "Sir, you read my mind"
there, a smile aligned,
The piano follows, and the saxophone agrees,
We danced all night to our Harlem beat.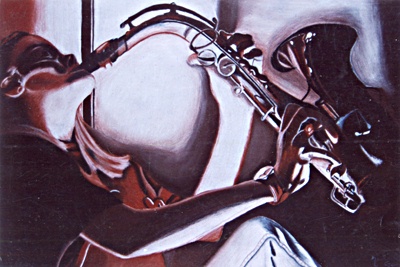 © Karina G., Kannapolis, NC