Photograph
April 14, 2015
Aztec patterns line your jacket
and dark, black eyeliner hugs your eyes.
Bright pink nails scratch out your name
into the aged and wrinkled bark of a tree.
Sharp, silver eyes watch carefully.
Never missing a beat.
Always watching.
You suck in a breath
and I can almost see you close your eyes
as the cold, madness of December
flows through your lungs and into your veins.
Almost like you're really here.
Still one beating heart full of wonder.
Still a cacophony of colour and life.
I can see you dancing.
Twirling and twisting under the moon
like the ghost of a goddess.
Your shadow turning into silver moon beams,
and your smile,
twinkling brighter than the stars
as the forest comes alive at the sound of your laughter.
So beautiful...
But the midnight air turns crisp
and the moon hides behind her cloud lovers,
taking them to bed in a blanket of stars.
The photograph darkens in my hand
and the world takes a breath.
Breathing in the scent of your memory,
then letting it loose upon the wind.
All that's left of you
lays cold between my fingers.
A piece of waxy paper,
torn and ripped at the edges.
Blurred and dirty from months spent
in the pocket over my heart.
Your memory beating against my chest.
Almost as if your heart has consumed mine.
City lights flash around me
but the memory of you is blinding.
And I can almost see you standing there.
My goddess in disguise.
My ghost of yesterday.
My angel in the sky.
Your wings seem to wrap around me
and all the world dies away..
But all that's left of you is a photograph.
Warm and alive sitting above my heart.
Cradling me in your translucent arms
and scaring away the fear of death.
I close my eyes
and breathe in the cold, December air.
Taking in and accepting the madness of the world.
I'll see you soon...
My princess in the ground.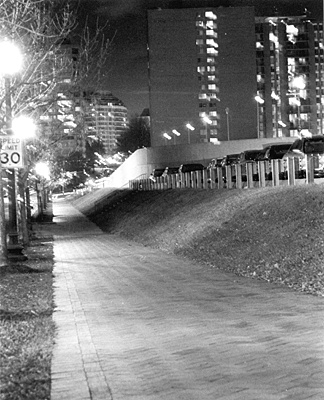 © Alicia S., Bethesda, MD