The Restless Light
April 13, 2015
She could have heard the sound
from a mile away;
A piercing whisper of something odd
lighting up inside him.
And try, she did,
with a strength newly revealed,
to hold onto the small breath of hope
lingering patiently,
restlessly inside him.
Panicking, it thrashed about—the little light—
in the hope of escaping to something better.
And in his heart, he knew
that she was worth the patience, the restlessness.
She was worth the tick-tock of youth and ambition
running out
as he stared longingly at the world beyond.
The world, as it was, bigger than
this tiny, entrapping town in Missouri.
She was worth it, but he couldn't help himself.
The sweet, small light was spreading rapidly;
a blitzing flame that zigged and zagged
'cross Italy, New Zealand, the Gulf of Mexico.
Somewhere in that growing, changing heart of hers,
she wanted to go with him.
To cross borders she had never crossed,
leave for a better future.
If only her logic-ridden mind would not remind her
of every good thing
she was unwilling to leave.
He packed away the last box.
Standing alone in his empty apartment,
he remembered the sweet smell of home,
of her,
lingering in the doorway.
Tenderly, she broke away.
Silently, he walked.
As airport security fastened her
to the borders of the building,
she slid her gaze upward and on.
Through the tears threatening to spill over,
she glanced a blurred
solitary figure,
clinging tightly to a one-way ticket.
She knew this restless light
which had festered and boiled
took root, and engulfed him.
She wanted with all her broken heart
to hate that light,
who stole him away.
Then it occurred to her,
his restless spirit
may be the very reason
she ever even loved him in the first place.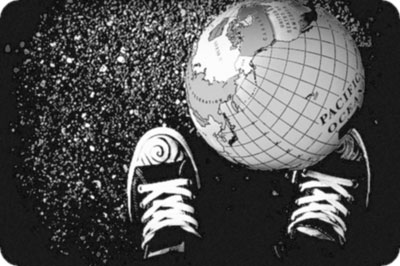 © Kailey E., Crownsville, MD