Ode to Lovers Lost
May 10, 2015
He was there, then
full of mirth in a ballroom,
mouth abundant with chambord laced kisses.
We escaped under a halogen smudged sky,
and embraced the dawn with new eyes.
It is only when I marked him out in marble that I realised,
that it is not love that powers the season,
but death that subtracts us from Spring.
He became fertile for brambles, worms, leaves, things the dwell beneath six feet of forgetfulness,
Cravat untied, echoing laughter lost to Summer, when the sun stole him for her earth.
When I smoothed fear from his creased brow
I could not feel the the truth blooming beneath my fingers.
Magnets whirred over his magnificence,
Stole the awe from his smile, built malignance from doubt
and made him one to a machine. It was later, when I could not bear the stench of sterile flesh, of bed baths,
that I took to the roof to watch our sky once more.
The stars had dulled in their radiance, all black then,
And his heart came to rest. In a dull cavity, a chest full of promise,
My child wailed and wished for more. I have waited on our mountaintops,
I have etched the words into my wrist and yet
Your prayers have not come to save me.
You, like a prize grasped in a fairground,
by the sticky hands of youth, fall into Blackpool rocks to be swallowed whole. I will wait for you there,
dragged under by tide and surfacing to watch the moon,
For we will return to Paris, dancing, soon.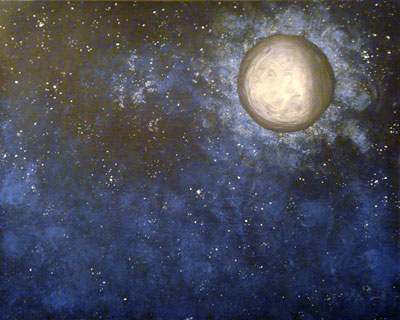 © Allison H., Vancouver, WA