The Blossoming of Love
May 15, 2015
For the first time ever,
on his first day of kindergarten,
a girl asked if he minded
if she sat next to him,
and he didn't know what to say:
I don't?
She giggled and sat down,
and as he stared into her curly hair,
he dreamed, as kids do,
that, one day,
that pretty girl three inches to his left
would become his wife,
and would kiss him on the cheek
before he left for work
as his mother had done to his father
that morning.

For the first time since that day,
as the first notes of "Here Comes the Bride"
began to play,
he again remembered his dream,
and as he watched his beautiful bride
walk arm-in-arm with her father,
he smiled at his young self.
His smile was filled with pure joy,
and he couldn't help but let
the joy reach his eyes,
and for the first time in years,
he let the dam that was
holding back his tears break.
Through the flood, he reached for his lover,
and this time, he knew what to say:
I do.
Before he left for his first day of work
at his first full-time job,
he went downstairs early in the morning
and was surprised to see
his "night owl" wife waiting for him,
but she didn't kiss him on the cheek
like he had once hoped.
Instead, she pulled him into a hug
and whispered
I love you
for the first time since their wedding,
and he decided he liked that better.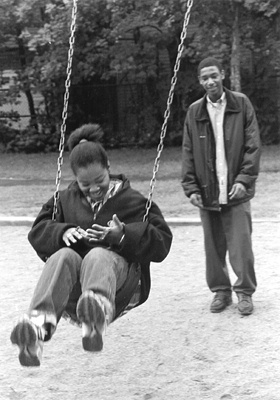 © Yaniris M., Boston, MA