Golden
August 31, 2015
They all say I tumbled out
of my mother headfirst, heaving
a racket appropriate for my baby
lungs and baby mouth,
and since then the yellow had grown
like an invasive fungus over my baby
lungs and baby mouth
and baby skin.
And from the time my feet had
lost its yellow webbing and
my pupils pierced the yellow slime,
I saw the pigment infected
all over the hands and shoulders
of my mother of my father of
my grandma of my grandpa (he died
eight years later of the yellow
smoke), and since then it was hanging
everywhere no matter where
I looked or what I saw,
a cartoonish devil-curtain
that draped itself over
my face. It never stopped
until I stepped outside; the stubborn
filter sprawled lethargically over
my shoulder as the transparent
veil made everything white
white white white.
But in the "transfiguration"
academy where maroon-clad
worshippers made me wish the
yellow out of my skin and
into my hair, the curtain
liquified into my arteries where
blood cells camouflaged into plasma,
an overflowing river of lifelessness—
putrid water weathering away all
crimson that was left. From then
my house had "transfigured" into
a giant crab, and for a while I
yanked at its esophagus in an attempt
to force it to vomit away the chopsticks
and fishbone lodged in its yellow
throat. I fed it Barbie dolls and
Wonder Bread until I was satisfied
the sulfuric acid had evaporated,
but the color in my parents had not
drained away because they never
took out the trash and left it rotting
where I could smell it. And for a
while yellow was only something
I could taste in the crab entrails
so for a while I was content since
I no longer noticed it lurking
behind my dark hair as long as
I shook its diction out of mine.
But the crab house grew into a
doghouse, where a puny mutt—
tan and oh-so-white—controlled
all tints and shades and
decorations, and the public nose again
began sniffing the dumpling breath
I had tried to burn out. The yellow
slithered out of my skin and
concealed my senses in a hazy
smog, an almost opaque screen
of odious gas between me and
the world. Then the doghouse
shed hair that was yellow
yellow yellow yellow,
and despite its tanness and whiteness
it had urinated all over the tiled floor.
When we cleaned it up, a squeaky
little Big Bird embraced me and
asked me what stained my hands.
Whatever spicy odor it was rose
into the most brilliant firefly-glow,
flashlight, finch-beak I had ever seen,
and in that moment with little Big
Bird's yellow smile I saw—I see!
That I am golden.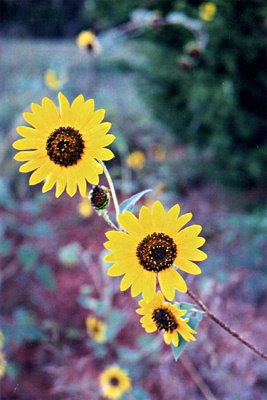 © Megan B., Luther, OK