Grandma's days'
April 28, 2016
The glasses, folded in half, sat trapped beneath motes of dust
on your window sill.
Time seemed to stop,
as watery rays of sunlight
slipped through the wide bay windows
of your living room;
outlining the planes of
your grooved-by-wrinkles face.
You sat on your throne;
a red leather chair;
creased with age.
Your cloud of sun tinted blond hair
stood on end;
resembling a halo of soft static
around your skull.
A smile tugged up your ruby painted lips,
exposing chiclet crooked teeth.
Your smile could break
the walls of angst,
closing in on me;
in half.
It could shatter each and every regret,
swelling in the atmosphere
of your airy condo.
Light winked off your greasy
half moon spectacles as you
tugged absently at the heavy,
silver chain dangling from
your wizened neck.
I wondered lost in thought,
what secrets lurked in the folds
of your fair skin-
when did each form
and at what point in your life
if ever
did it define you?
You sit there,
blue eyes,
bluer than the crisp sky above
and although your sometimes
seafoam tinged eyes
may gravitate toward another
episode of your favorite soap opera;
you may wonder the exact same thing;
regarding I, your second granddaughter.
You may study the scars I carry,
with rapt fixation;
ruminate on all the secrets
swirling beneath my veins
thick as blood, murky as the
surface of an algae choked swamp.
That split second of old vs. new age,
back when everything was black and white,
when Grandpa toiled his way at the office;
when your own girls were young and bright;
when you smiled far more often;
to now;
me grown and fidgeting on
the crushed cushions of the
pacific blue cordoroy couch;
you witnessing each and everything
hardship I've endured;
and thinking wistfully
to yourself
she hasn't even seen the world
this is nothing.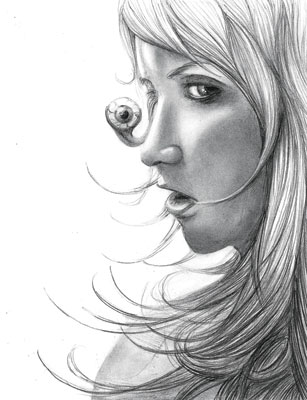 © Jessica P., Bethel Park, PA