My Beast
September 12, 2016
Like a rainforest only
Heavier
Darker
Hotter
Thicker.
In a tunnel of darkness pressing you in
And in and in
And in an
And in
And
An
A
An
And
And out
And out an
And out and out
And back in yet again.
Twisting, turning
A cave with an acid ocean churning.
There- caverns.
Holes upon holes upon
Caverns upon holes.
A mountain that seems to SWELL
and fall, a mountain tide.
A canopy of trees,
Trees grown of the smoothest stone
Long and strong and white
But leafless,
Barren trunks with not a branch,
Elegant and daunting.
A rainforest,
With no rain.
Ragged pulsing cracks run over,
Around, under you, concealing the rivers,
Red, hot rivers that never spill a drop.
THERE.
It's there, through the swelling hill.
The beast of two,
One side and its mirror in perfect,
Terrible harmony.
A monstrous beast, yes.
But a chained one,
Bound to its place in this ghastly forest
Forever pounding on and on and on.
And you, like a traveler, have stayed the
Path, braved the acid, rose and fell with the hill-
Now here you stand before the beast,
My beast
My slave
Your reward.
You have tamed it, stroked it, shown it kindness, shown it peace,
My beast.

My heart.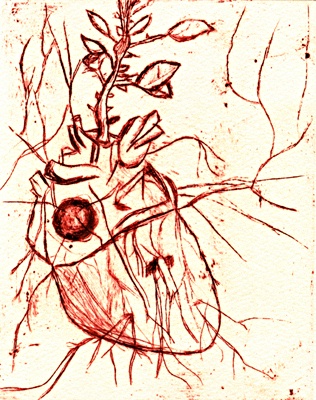 © Elaine S., Phoenix, AZ