Subconscious Opinions on Significance
MAG
September 12, 2016
In the dream, I am hanging
upside-down from the petals
of a tulip – the kind you spend
an hour planting in fall then
forget about until
spring – up in the sky. I cannot see
if I am big or small; if I look
up I can only see my feet and
clouds, but not my hands. Where
did they go? Did they finally crawl
underneath my skin – is that why
I hurt so much?
My gym teacher calls
my name. Her hair is no longer
green. She eats oranges instead.
If I look down I can
see seven dragonflies. One
only wants to talk about politics,
yet it has never graduated
college. "I have a relevant
opinion," I say to the seven
dragonflies. "But I haven't
graduated college either."
The fourth dragonfly hums.
"What makes you think it is
relevant? Did you invent
lasagna?"
"No, but I have discovered
the freezing point for matcha-
flavored chocolate," I say. The
tulip changes
into matcha-flavored chocolate,
melted. The seven dragonflies
buzz – I think they are laughing.
"We fly," says the one who only
wants to talk about politics. They fly.
My gym teacher changes
her hair back to green. It hurts. I
can smell it on my skin.
In the dream, I am hanging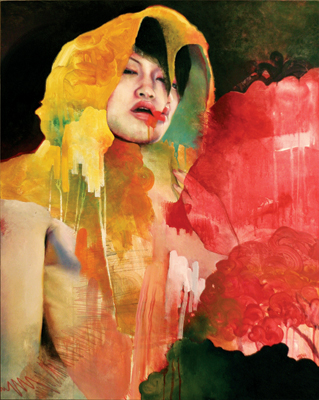 © Winston C., Jamaica Plain, MA