Coffee
September 19, 2016
Coffee has created a movement featuring it's own stigma in which it includes all types of people.
The happy ones.
The creative ones.
The young ones.
The tired ones.
The cold ones.
The rich ones.
The empty ones.
The fashionable ones.
The old ones.
Happy people drink coffee because it makes their day even better, which is good for them, but annoying to the brokenhearted ones.
Creative people drink coffee because such a innovative and inclusive drink will only make the creative thoughts brighter.
The young ones because it's what they are told is going to keep them awake in school.
The tired ones because they have already fallen asleep in school before and refuse to wake up with the class's daunting stare on their face as drool dries on the corners of their mouth.
The rich ones because they can.
The empty ones because it makes them just a little but less empty, even if it only lasts as long as a cup of coffee can be prolonged.
The fashionable ones because they know what's hip and if they're drinking coffee, then everyone else is too.
The old ones because they always have.
Coffee has created a movement featuring it's own stigma in which it includes all types of people.
Coffee is a simple concept really,
well, not the literal steps that are taken to convert it from a bean to a liquid,
that I know nothing about,
but metaphorically, of course, it's simple,
as you should have guessed that I meant metaphorically because I am always talking about the metaphor version as I find it much more poetic than the technological side of the world.
I kind of depend on the world of metaphors to write
because who wants to hear about the strategic process of picking, cleaning, grinding, pressing coffee?
The answer is many people.
I'm just not one of them.
The metaphor, the creative, slightly odd version of coffee is this:?It brings people together.
It changes situations.
It makes people literally feel warmer inside, which emotionally makes them more vulnerable.
Coffee contains caffeine and that's the only reason this coffee-loving, elongated, perhaps completely arbitrary but potentially very true poem exists.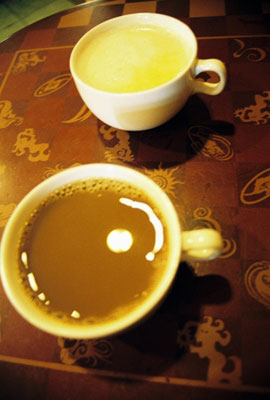 © Jaci S., Duluth, GA