Guardian
March 7, 2017
I.
grass rises from the soil
at the base of the tombstone
before she arrives.
her shadow cradles a bouquet of roses,
sheltered from a white blistering sun;
when she places them at her son's grave,
they burn.
she sees his name carved deep,
like the wrinkles that formed in the corners of laughing eyes,
and knows there is the name of a thief
still soaring
wild, thoughtless, over the clouds.
her heart is on fire.
you weave your fingers into hers,
squeeze, and whisper;
she doesn't notice.
II.
the corpse weighs heavy on the shoulders
of the broken soldier
marching across fields soaked in blood
and
cowering beneath clouds pierced with gunfire.
he hasn't realized what he is carrying;
but his bones know the weight of death.
his feet numb before crumbling beneath him.
when the angels press their leather wings
around his spine,
you ward them off
with a sword glistening
and a throat raw with rage.
III.
a knife is balanced in the earthen hands
of the child who knows too little
and has seen too much.
blood pools at their feet;
it doesn't stop their hands from trembling.
a question clings like water to their lips;
you answer with a kiss,
but their mouth overflows with molten iron.
IV.
there is no hell;
only hellfire.
it blinds your eyes when you dare to look.
V.
your fists are filled with mud.
smear it over your skin;
bathe in it until your fingernails are painted brown
and your heart remembers eden.
press it into her cheeks,
his ankles,
their bones.
tell them it is their warpaint.
they won't hear you,
but when their fingers find their way to feeling,
they will know.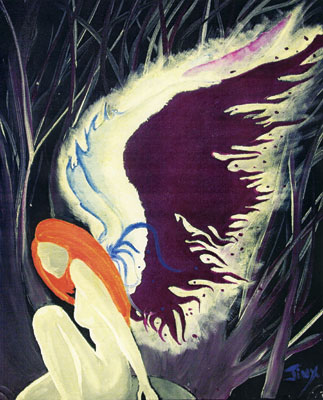 © Megan B., Youngstown, OH