Lemonade
June 1, 2009
A lazy day upon the bay,
Nothing to do, nothing to say,
No places to be, no things to see;
No thoughts to chew; no bills for me.

Cool lemonade in my throat
Compliments my rocking boat,
And I find myself drifting away,
Away.

I find myself drifting away.

In dreamlike tranquility I leave the port,
Passing by islands, ships; other things of that sort.
I sail into the sun, on such a mild summer day,
Not a thought to chew; not a bill to pay.

The sea is spread wide before me; not a speck of land in sight.
Below me is the blue sea, and above the sky, stark white.
Yet I notice a grey streak, then another - and more!
The sky seems to darken; next I hear a distant roar.

The wind picks up quickly;
I secure the cabin door.
Thoughts of squalls clutter the mind,
And I recall once-forgotten sea-lore.

Cruel storms manifest.
Waves scream in the tempest.
Wood snaps,
Rope frays,
Battered by harsh ocean sprays.

Tossed about the thrashing ship,
From the edge of the boat I so fearfully slip!
Then I tumble into this rapacious, foreign sea.
So little hope is left for me.

On a splintering board I bang my head,
A haze in my eyes - a blaring mad red!

Now I am dead.

But all is fine,
The boat, the bay,
I am home in the now;
It is all okay.

But in my slumber, I tossed and turned; nearly killed!
And now I sit,
Sleepy eyed,
Lemonade…?




Spilled...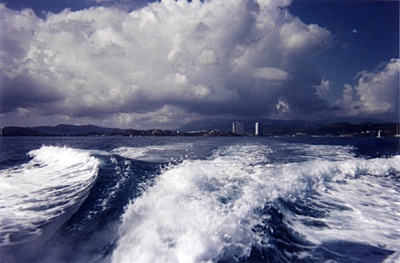 © Jenn T., Dover, NH