Hope Chest
May 11, 2013
I hate the way they mess around with my head
I'm sick of it, so today I'll pull out my hope chest instead.
This treasure box is the one that holds my past,
I close it and lock it, that's how I make it last.
I open it up, and on the floor it's contents I spread.

I am surrounded by things I had long forgot,
this box represents me even more than I thought.
I see a tiny snipping of my baby hair
and there lies a flyer from my old daycare.
A picture of me in the ballet class my mother taught.

In a zip locked bag I discover my first lost tooth,
these memories are a representation of my youth.
The outfit I'd dress my favorite barbie in.
A tiny wind up soldier made of tin.
A ticket from my favorite movie, torn in half at a booth.

The costume I wore for my first childhood play.
A tiny pink flute that I had molded from clay.
Piles upon piles of birthday notes,
a piece of straw from the petting zoo where I first fed goats.
A baby blanket from the crib where I used to lay.

My very first pair of running shoes.
A Caribbean necklace from our family cruise.
My brothers James Bond doll that I'd gave the dog for a toy.
A corsage from my first dance with a boy.
A clipping of my picture from the front page news.

An old stocking I'd used every Christmas, with the fluff now falling out.
A painting of a child on whose face I'd drawn a pout.
An out of currency penny, a nickel, and a dime.
A Hello Kitty watch from which I'd learned to keep the time.
An old badge collection from my days as a girl scout.

A handwritten copy of my first grade poem, saying:
"I have a dog named Toby, and right now he is playing
Toby's tail is very fluffy,
his head is very puffy.
The trick we're doing now is teaching Toby staying."

A double feature video that I'd watched every day.
A T-shirt from the camp where I hand fed Horse's hay.
A postcard from my friends on their went to visit Peru,
if I hadn't caught pneumonia I'd have been there too.
My very first Nintendo, for which to god I used to pray.

All these memories fill me with cheer,
although some of them a little bit queer.
I guess life isn't so bad.
I don't really have to be sad.
I'm not going to shed a single tear.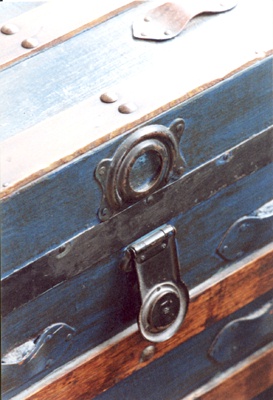 © Amanda F.,New City, NY