In disguise
May 2, 2015
He was an artist,
and my body was his canvas.
Blinded by his love,
I was his masterpiece.
First, he came off sweet,
he swayed his brush of watercolor,
painting the colors of happiness.
I was a walking figure of his talent,
and I was okay with that.
Becuase he made me feel beautiful.
He painted carefully,
making sure of every detail.
He made sure no paint dripped or had a leak,
and that my beauty was at it's peak.
He took care of me,
like any artist would of their art.
But then he started to run out of space on his canvas,
so the force he put upon the brush became harder,
painting over the watercolor with colors darker,
it started to hurt.
As if what I was wasn't enough.
watercolor paint is light, sort of see through,
it makes the illusion of gentless.
But he started to paint with opaque,
solid, bold colors,
like black and blue.
Something you can't hide,
my body was getting tender.
I didn't feel pretty anymore.
He use to paint butterflies on my tummy,
but now I see spiders.
He use to paint clouds on my feet,
to show that he swept me away.
But now i'm chained to the floor,
my body is too far from the door.
I was a walking figure of his talent,
and now I walk my head is shame.
I'm stuck and don't know how to get away,
but it's okay,
i know he loves me, right?
I gave him my all,
and I guess that was my mistake.
I don't know how much beatings I can take,
till I break from all this body ache.
"I didn't mean to hurt you," he said,
"I will change, I swear" he begged,
And I believed it,
becuase I was in love and thought he'd quit.
A slap of black,
and a dash of blue.
This canvas was turning ugly,
I couldn't leave, I was stuck like glue.
And it didn't take long till he painted red,
where nights I was helpless on my bed.
Blood is what I shed,
I just wanted to feel pretty again.
But with every stroke of his brush was another punch,
leaving me with another mixture of black and blue.
He made me feel beautiful,
but now I don't know what to do.
He was an abuser in disguise of an artist,
what can I say?
I was in love and thought it was okay.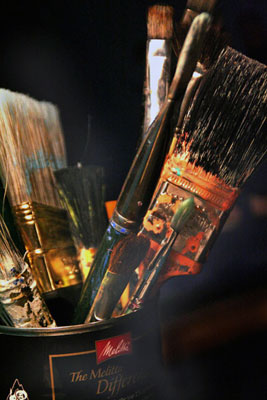 © Marina L., Orlando, FL