"Stuck On You"
November 23, 2009
kinda lost on love.
but really stuck on you.

showing affection can be blurry.
but lust stays contempt.

just go with the flow,
let nature take its course.

patience is hard to find
and you are hard to please.

so please don't make me beg.

friendship can last a lifetime.
but love is enternally.

we both have a choice.
so what will your choice be?

i'm done being lost.
lost, being stuck in misery.
just because i want you here with me.

things my way.
might just work.
say the words.
WE will make things work.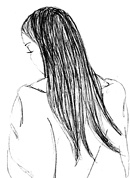 © Miranda B., Neosho, MO