Crimson
December 24, 2009
the black night air lays heavy,
and the sky is think with smoke.
his body bleeds,
his blue eyes burn,
still he's trying not to choke.
his clothes are drenched with sweat and blood.
his body aches with pain.
clutching his gun, he presses on.
trying to see through the rain.
when he finally finds his wounded friend,
he sprints to reach his side.
he takes his hand, red and limp, the blood a crimson tide.
tears escape his bloodshot eyes
as he looks to his dying friend.
his mind races,
he chokes on words.
he knows this is the end.
as the bloods pours from his body,
his eyes syart to roll to the back of his head.
and just as sudden as it started,
his best friend was laying dead.
he screams out in pain and shock,
not caring what enemy might be around.
and with a sudden surge of strength,
he slowly rose up from the ground.
his body weak and pouring blood,
a crimson stream of pain,
he picks up the body of his friend
and starts walking through the rain.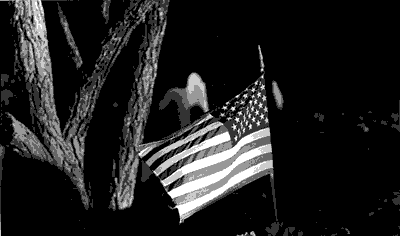 © Kimberly R., Marblehead, MA