The Marble Halls
January 10, 2016
Distinctly I recall that evening, wherein-all,
Hearts and countenances gay, did dance to merry song;
They swept my marble hall, rejoicing therein-all,
Till to their dismay, the oaken clock did beat its gong.
The marble, now, is cold, and rests its grey grim hold,
Upon my wretched soul.
Its grim sepulchral hold, mounted ruthless and bold,
Upon my aching soul.
Drumming is my tread, walking in that hall of dread…
But throbbing also is my heart, for there they did dance,
There first I saw that head… which now lies cold and dead!
Towards her I did start, upon her beauty I did prance,
And love upon us fell! But soon it turned to hell,
Upon my broken soul.
To living, earthly hell, as rings her morbid bell,
Upon my loving soul.
No longer are the days, when the sun's golden rays,
Shining strong past the long glass, would bathe my solemn brow.
For on that brow, the daze of the love within her gaze…
Ne'er again will come to pass… Nevermore, never now…
As the rank, rustling rain beats down with high disdain
Upon my graven soul.
With high and foul disdain, is press'd this morbid pain
Upon my anguished soul.
And the empty gusts that flow through those halls of woe
Prey upon my tortured mind! The movement they create,
As they dance to and fro, thus drifting as if though
I would her living figure find, free from her grim fate!
But in ev'ry gust's the toll of the chilling dole,
Upon my weeping soul!
The grim, chilling dole, writ upon the beastly scroll
That is my dying soul!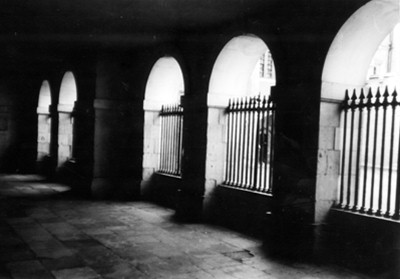 © Hadley B., Marblehead, MA