Dream of Beauty
January 14, 2017

I saw before me a green valley sublime,
Asleep beneath a sea of cherry trees.
Cerise hues and Roman scents aspire to climb,
Towards the golden sun with gentle breeze.
The blackbirds and gales sit in languid repose,
Serenading sweetness with sweetness more,
Blessing with pleasing tunes the red gracious rose,
And blessed back by her crimson silk outpour!
Ah, and the soothing birds and trees and flowers
Sing and dance still before my white bare feet,
Living in a world free of copper-grim hours,
Where beauty is joy and duty ever sweet.
Now soft, beyond the trees and beneath the sun,
What stands there showered by glittering streams?
Who, with sanguine lips and golden eyes, doth shun
All that paradise in the best of dreams?
Dream of dreams alone could shun this dream my own,
Where beauty is beauty beyond compare,
Save by beauty hers, to all mortals unknown,
The glories that roam in her raven hair…
But softly, the clouds melt away from my eyes,
Open, as from my slumbers I awake.
And scalding tears ensue for the hallowed lies
Of worlds made for beauty and beauty's sake.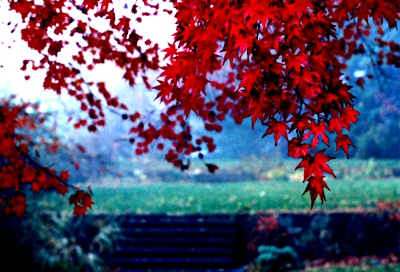 © Susan R., Iselin, NJ