Shoe Obsession: An Exhibit at the Museum at F.I.T.
February 28, 2013
What's free, fresh, fun, and features unforgettable creations from the eyes of Christian Louboutin, Givenchy, and Manolo Blahnik? No, it's not window shopping at Bergdorf Goodman, but it's the recently-opened exhibit entitled "Shoe Obsession," at the Museum at F.I.T., of course. Imagine, feasting your eyes on over 150 pairs of stilettos, above-the-knee boots, and wedges, all from the most eminent haute couture designers.

"Shoe Obsession" examines the modern-day woman's obsession with footwear, especially high heels. Contemporary footwear is becoming increasingly higher, wilder, and inventive. This new exhibit serves to honor this novel approach to the fashion of the foot.

"Shoe Obsession" is located on the bottom floor of the Museum at F.I.T. As one walks into the exhibit, he or she is immediately struck by the beauty of the ingenious layout of the showroom. The walls are clad in all black; lighting is minimal. The slim glass display cases are able to be observed from all angles. Each case features about six pairs of shoes each—just enough to appreciate at one time. The lights only serve to highlight the originality of the shoe.

Luckily, the crowd was calm, noiseless, and appreciative of the exhibit. At no point did I feel overwhelmed by the hordes of well-dressed people. When exiting the exhibit, there is even a large sign displaying a concise biography of each of the skilled designers featured at "Shoe Obsession."

Some highlights include: wedges with ponytails flowing from the heel, actual glass slippers by Maison Martin Margiela, and a pair of 3 foot-high point shoes designed especially for peculiar pop songstress Lady Gaga. "Shoe Obsession" is a mind-blowing, unique, breathtaking exhibit for all ages. It stands out in a city of endless art galleries and museums. If you only have one museum to visit in New York, let F.I.T. be it! Exhibit runs until April 3rd.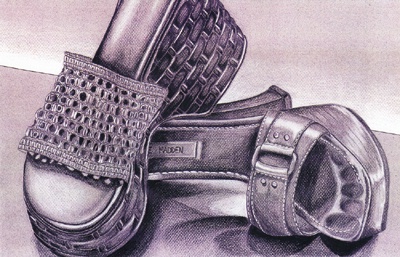 © Edjan C., Jamaica, NY