Oz the Great and Powerful
April 14, 2013
Didn't bring your favorite cheesy snack? Don't worry, Oz the Great and Powerful has enough cheese to fill anyone up. From a simple story to its distracting acting, Oz is a shallow film with no depth to it.

Oz is the prequel to the 1939 film "The Wizard of Oz" based on the book by L. Frank Baum. This story follows Oz as a magician who believes his no-good, "con man" ways aren't good enough to save the people from the wicked witches. It basically shows his predictable journey of how he became the wizard. It was directed by Sam Raimi, and stars James Franco, Mila Kunis, Michelle Williams, Rachel Weisz, and Joey King.

Out of those five, King was my favorite. She portrays the adorable, animated China Doll that easily gets an "aw" from her emotionally-packed lines. As for Franco and Kunis, their acting was unbelievable and distracting. Franco seems emotionally detached from Oz, especially when talking about achieving a better life. Though he shows nice vocal range, and gets facial expressions right, it's too hard to believe him. Kunis as the wicked witch was unbearable. Though it could seem scary for children, it seems silly and cliched. She doesn't put much depth into the character, except for screaming raspy, shrill words that could break glass.

Besides her acting, her costumes made me think, "What is she wearing?" They are pretty, but distracting because it doesn't look like something her character would wear. Except, of course, the usual black dress and hat. All the other costumes are fine, but not noticeable. The only thing worth noticing is a monkey wearing a bell-hop suit.

But the most outstanding thing was the special effects. It takes you deep into the land beyond Oz, which is beautiful and amazing. But the film depended on it too much, which explains the weak story and the cheese. The dialog sounds fake, something no one would say in reality. Such as, "I'm a con man. I can't do no good." Then, "Well you sure had me fooled." Lines like that detached me from the story, while its predictability made it slow.

Though I would never see this again, it is an enjoyable story that's perfect for escaping reality. Even if it's ridiculously cheesy, the film is fun on a shallow watch; not in depth.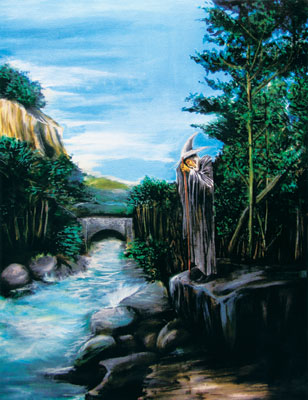 © Mick G., Bellevue, NE