After the Sunset
MAG
"After the Sunset" is one of this season's hottest films, appealing to both genders with adventure and romance.

Pierce Brosnan and Salma Hayek star as a couple of infamous thieves who have eluded the FBI's Stan (Woody Harrelson) for years and appear to be retiring after pulling off some major heists. The Paradise Island setting provides gorgeous scenery for a new heist: Max (Brosnan) is on a secret quest for the last Napoleon diamond.

Brosnan and Hayek both put in great performances, and have impeccable on-screen chemistry which really makes this fast-paced movie work well.

Rated PG-13, "After the Sunset" contains some racy scenes. I don't suggest it for younger teens. It is a well-made movie worth seeing.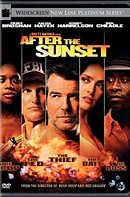 © Anonymous