Gravity
November 5, 2013
Imagine your darkest fear coming to life. Then battling that alone in a place that's not livable for humans - where you can die at anytime from a wrong move or simple mistakes. All from trying to defy a natural element. Hold on to your seats, because Gravity is going to take you away.

An anxious astronaut (Sandra Bullock) wants to go back to her safe life in Iowa, where she can hold onto her grief for her dead daughter. Instead she is stuck with her care-free space partner (George Clooney) who continuously lets and enjoys life moment to moment. Despite the major differences, they must work together on a mission to get back to earth, otherwise they die.

Directed by Alfonso Cuaron, the movie is paced with the right balance. As it's set in space, it uses a ton of special effects and green screen - only to look like there's none. Its unique direction makes it look like the camera was also in space. As it drifts around and barley focuses onto one thing, enhancing the disorientating, space feel.

Gravity has the feeling of a horror film even though its intense pacing could equal sci-fi thriller. But the fear factor that truly stands out is that no circumstances can be controlled as Bullock battles earth's natural elements of air, fire, and wind, while also trying to survive without giving up. In that process, it shows us how horrifying being alone can really be, but how great hope is once it's obtained. As the film's unpredictability is relatable to life's uncontrollable circumstances. It gives us a model on how to face through those and then to let go from that pain. Because as the movie's theme explains, life has much more to offer when you have a story of hope to tell.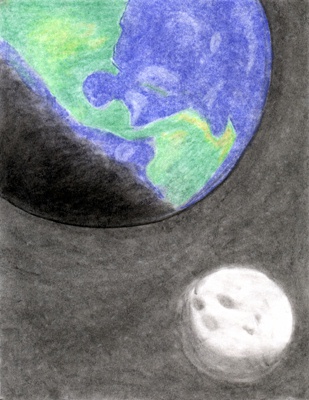 © Bianca C., Phoenix, AZ