Temple Grandin
July 28, 2017
Before she was a renowned expert and advocate for animal rights, Temple Grandin was just an autistic student struggling in college.
The name is special, with a canny ring to it--Temple Grandin--and the young woman is certain special herself. Temple, played by Romeo + Juliet's Claire Danes, claims her autism allows her to see things in a way other people don't. In the film, chalk animations reveal just how beautifully, miraculously Temple sees symmetry in the everyday. It enables her to solve technical problems wherever she goes, spotting the kink in everything from mal-placed wallpaper to the creaking machinery of her aunt's farm, where she first meets the gentle beasts that will guide her life.
Indeed, the best part of the film is being able to see the world precisely from Temple's eyes, for better, for worse. With autism, her senses are magnified, and the film invites the audience to transcend themselves for a moment, in scenes where Temple is in understandable thought or panic, ranging from sheer bliss to chaos as the easiest sounds become unbearable, new experiences harrowing. Automatically sliding doors and their sharp whoosh! make her literally see a dropping guillotine, as Temple braces to enter the grocery store. The film promotes tolerance, quietly, empathetically, by simply placing us in Temple's shoes: it attempts to replicate a lifestyle many of us will never live, making the foreign authentic.
A generally feel-good biopic, we follow Temple in all walks of life, as a generally awkward student who is either too loud or too quiet, and as a young architect breaking through in her field. Temple faces what seem to be endless challenges and, in addition to sliding glass doors, glass ceilings. She approaches them the only way she knows how: by tuning everything out, to focus. She discovers the therapeutic effects of her "squeeze machine," a wooden contraption modeled after one intended to calm cows on her aunt's farm. She describes it has the calming effect of a hug that other children get from human contact; but, being autistic, she winces when touched by other people, much to the despair and confusion of her loving mother, who wants to reach out to Temple without knowing how. Whether being ridiculed for her little-understood autism, or for being a woman on a men-only entry farm, Temple chooses to hone in on her work, rather than her situation. As she puts rather eloquently toward the end, Temple believes that raising animals for slaughter is not inhumane, but that we owe them a decent life and death while we're at it. The result is her near-genius redesign of one cattle farm, which faces scorn for its unconventional ideas. Her simply held beliefs, mixed with work ethic, make Temple fundamentally likable, for those who have not heard of the activist in real life.
And it all comes to life, splendidly, on the big screen: played meticulously with the physical and verbal mannerisms of Temple, Danes is moving, her large, suspicious eyes conveying true fear and passion. At one point, Temple openly despairs that she struggles to read other people's expressions, which are open books to others. It's something like that, isolating on paper, that's actually one of the most humanizing aspects of the film. In expressions of fear and anger herself, we see ourselves, overwhelming, in Temple; where in happiness, she glows. She's pretty amazing. She's Temple Grandin.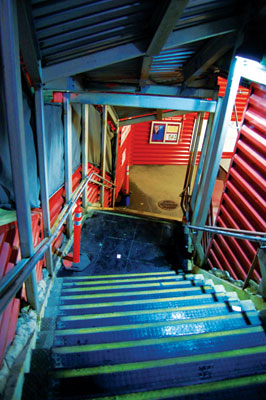 © Karen C., Holbrook, MA