Ten Things I Hate About You
August 25, 2017
A modern day retelling of Shakespeare's The Taming of the Shrew lands in an American high school.
It's loud, it's unapologetic, it's iconic--and in the vein of other '90s classics, Ten Things I Hate About You is a hidden gem crowded behind the likes of Clueless and Mean Girls. It's also incredibly clever, following the model of Billy Shakes where chaos besets the young lovers. Katarina Stratford (Julia Stiles) is more "tempestuous" than tender, refusing to date, or conform to any disgusting low-par "mating rituals" of her misogynistic classmates, for that matter. Unfortunately, her younger sister, the popular queen Bianca Stratford (Larisa Oleynik) is desperate to date, and can't until her older sister does. That rule is set down gleefully by their paranoid-of-teen-pregnancy surgeon father, Walter Stratford (Larry Miller), and is the rule Cameron (Joseph Gordon-Levitt) is desperate to break, the new guy who arrives at high school immediately smitten with Bianca. His love is more classically pure than Joey "Eat Me" Donner (Andrew Keegan), the school's top jock and occasional sock-ad model who wants Bianca for less poetic reasons. So Cameron and audio-visual geek Michael (David Krumholtz) get Joey to hire a guy to take out Kat, tricking Joey into thinking he'll be the one to get Bianca, all while it's Cameron who will get the chance to charm and hopefully date Bianca. The guy getting paid is the famously rogue Patrick Verona (Heath Ledger), a rumored juvenile and generally terrifying guy who falls dangerously close to falling in love with the girl he's been paid to date.
It's ridiculous how funny the movie is, since nobody's trying to be funny. Every character could be summed up in a word or more, but reveals an entire palette of colors as the film progresses--Kat, the heinous witch, is also bitter and hurt about the loss of their mother; Patrick, the feared punk outcast who no one has bothered to look long enough to look him in the eye; Bianca, the little brat, is frustrated with being sheltered; and Cameron, the good guy who is quickly disillusioned. In short, the film wouldn't be anything without its foil of fantastic characters, who, when they're not being moody, are gut-bustingly funny in their everyday rage. The background players in the high school are what also make Ten Things comedy gold: like the romance-novel-writing, highly inappropriate school counselor Ms. Perky (Allison Janney), willfully searching for just the right word for that one heart-pumping scene, and Kat's English teacher, Mr. Morgan, who has unapologetic opinions about race, people, and literature. He's also plenty vocal about the most annoying kids in his class, the witch and the sock ad model. Walter Stratford, the sisters' dad, might be the most furiously funny of all. He's so genuinely terrified of his daughters falling into the infested trap of teenage sex that he makes Bianca wear "the suit" before going out to a party, a sack and cloth embodiment of what it weighs to be pregnant. And hell is just a sauna.
And Ten Things is immensely gratifying, as everything comes to a heartfelt end. The poem Kat ends up reading for the class, sonnet style, is not only a sweet reckoning to the film's poetic origins, but a moment of vulnerability for the tough gal. The film deals with more than just lovers, bickering away--like school peer pressure, parents who struggle to accept the fact they are no longer "players" in their children's lives, and siblings who drive each other up the wall. The fact that the old story takes place in a modern American high school couldn't be more perfect, further testifying to Shakespeare's original timelessness. It turns out unreasonable teenage rage goes well with love. And with a modern twist, things begin to change. Characters, in all their nuttiness, begin to sound more and more sane.
The film coddles none (the word "hate" is in the title), and the adaptation is loud and strong as teenage hormones. Plucking the people-archetypes from everyday life, some hundred years later, Ten Things pays more than a few winking tributes to its original source material. The title itself is an rhythmic reworking of the title The Taming of the Shrew. And tamed, are we? Far from it: with the generally magical magic of movies, you'll come to root for each their own. It doesn't hurt the film also has a smashing soundtrack, and a cameo or two from the classic '90s band, Letters to Cleo. We love it. We're in love. The Taming of the Shrew. Or, Ten Things I Hate About You.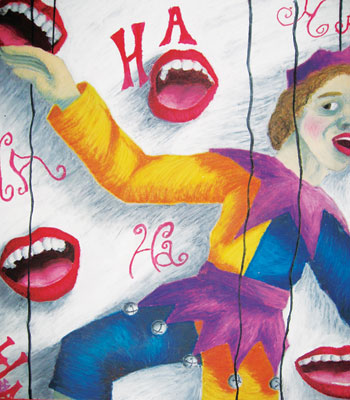 © Carollynn G., Hawthorne, NY