The Space Between Us
September 11, 2017
Gardner Elliot (Asa Butterfield) grew up on Mars, his identity kept a secret by NASA after his astronaut mother died giving birth on the red planet. Now sixteen, he yearns to visit Earth, where foster kid punk Tulsa (Britt Robertson) faces problems of her own. Their friendship will take them all over the green-blue planet, as Gardner desperately tries to make his life his own. But when Gardner's heart threatens to fail under the weight of Earth's gravity, the teenage runaways find themselves in the space between worlds.
The film begins with a sweeping homage to Earth's neighbor, Mars, a dusty red dream. With the somewhat ridiculous, SAY IT WITH ME… JUST! ADD! WATER! millionaire mogul Nathaniel Shepherd, played by Gary Oldman, christens his childhood dream of launching the first settlement on Mars, revealing to a crowd the project he has developed with NASA, as well as the astronauts who will be taking the first step. And that's where the problem starts, like a weed in the heart: with genuine potential on several fronts, the film falls short with its characters.
Granted, some of the ideas are fantastic, star stuff for younger audiences. But before that, I was surprisingly repelled by the cast of characters, each of whom I tried to like, many of which I had rooted for in reincarnations of other films. Rich man Nathaniel Shepherd is a horrible caricature of the selfish and boyish, well, rich man. He fails to garner sympathy for his hopeless, grandiose dreams by demanding the solar system revolve around him. Tulsa, played by up-and-coming actress Robertson, is also surprisingly unlikeable. The girl, constantly bullied and catcalled at school, is toughened and sarcastic after years of switching homes. But for all she's been through, she's dismally one-dimensional, where there was room for a fresh story. And Gardner, the boy who grew up on Mars, the boy who lived, the boy who we were supposed to fall in love with, is the greatest disappointment of all. For all his sense of wonder and being "a romantic," prodigious child actor Asa Butterfield is reduced to a somewhat awkward brat "raised by scientists," who stubbornly constantly runs away from his guardians. It's even more of a bummer, as Butterfield is a proven and versatile actor from the likes of The Boy in the Striped Pajamas and Ender's Game, and whose increasingly known name awarded the film much of its attention. The few funny moments in the film come from him.
But the cinematic trope of teens hitting the road and stealing everything in sight--which both casually condone--helps the movie fall into another pit. There are too many cliches, and not good ones, where predictably written characters can't pull it off, and, worse, don't rub off sparks. It's as if the film couldn't commit to a genre, and instead fished around knee-deep in several, without ever fully completing the research for sci-fi, cultivating substance for romance, or finding soul for identity. It's also not quite folksy enough for the film's sell line, What's your favorite thing about Earth? even as the two travel in a miraculously revived vintage airplane through conveniently scattered balloons, over a nearby Grand Canyon, whooping. The film reaches for symbols that don't go deep, and many which rub off, again, as cliche. The one plot twist in the film is immediately ruined by another, and generally spoils your taste for the classic literary hunt for a father figure.
It sounds harsh, but I didn't find the film engrossing, enjoyable, for all the wonders of Earth and Mars. I had cherry-picked it with my friend to watch, both for the cute actor and cute idea. A boy falls in love with Earth from Mars. But with increasingly unrealistic stunts and cringe-worthy lines of poetry toward the end, we both couldn't stomach it. Houston, we have a problem. The chemistry test came back false. The space between us is empty.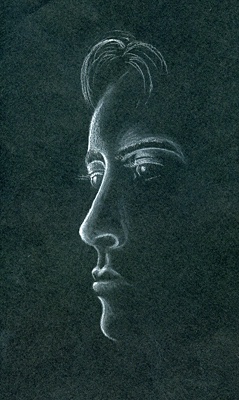 © Carlos S., Glendale, AZ