Bloom by Beach House
MAG
October 1, 2015
In a landlocked country, the most apt way to spend hot summer afternoons is to listen to a band called Beach House. A dream pop ocean, their 2012 album "Bloom" never ebbs; the listener is hit with wave after wave of auditory bliss. At the same time, not one track stands out as single-worthy. But there's a good reason for this: "Bloom" is an album that should be waded into, not consumed in sips. It's a cohesive artwork, an ocean where each drop is crystalline in its own light. And the only choice the listener has is to dive in.

The opening track, "Myth," has dream-like electric guitar riffs that float up and dissolve into nothing. Driving everything is a persistent synth melody drifting in and out. And the sparkling lyrics? "You see the road you're on/It came rolling down your cheek." The song winds down neatly into the gritty, drum-slicked opening to "Wild," which sounds like an adventure song. Again, the simple electric guitar melodies are a highlight, shaping the song into a snapshot-like dream. "And in a while, you start a smile," the lyrics croon. After all, you're not in reality anymore.

A series of psychedelic-sounding scales lead into "Lazuli." You are transported "into the blue of this life." Despite the album's sparse vocals, the lyrics exude energy and meaning. Beach House's graceful lyricism, elegantly similar to poetry, is never more apparent. An electric guitar-soaked bridge builds up beautifully, then quietly fades like a receding tide.

Slowly, you segue into one of my favorites, "Other People." The chorus is the highlight. A persistent cymbal tap prolongs the suspense to let it hit like a tsunami of ecstasy. It sounds like some melody you've heard before but can't quite recall.

The quirky vocal slides that begin the track "The Hours" are slightly reminiscent of the Cocteau Twins but tamer. The synth work is grittier, sanding down the catchy melodies. The following track, "Troublemaker," has similar psychedelic licks despite its darker feel. But this all changes in the surprising splash of chord progressions in the chorus. The refreshing harmonization slides in as coolly and swiftly as ice cream melting on a hot day.
"New Year" is another instant favorite for me. It offers a rich stream of emotion, a "portrait of a young girl waiting for the new year." Its imperfect cadence lingers like sea salt on skin.

Beginning with a low, sing-song piano, "On the Sea" feels like the moment you become warmly content after the initial shock of cold water – "Your heart is full and now it's spilling." The tugging trills and descents of the electric guitar conjure up an underwater feel, like you're lost and floating in the warm belly of the sea.

The album closes with "Irene," a song made for an indie film soundtrack. Wistful vocals blend seamlessly with intoxicating bass. And always, there is the persistent champagne fizz of cymbals, making sure the line between reality and dream is ever-blurred. "Irene" offers a beautiful finale; its recurring lyrics sum up the album as a whole: "a strange paradise."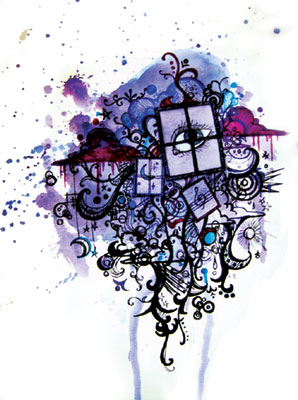 © Savannah R., Stoneville, TX