Better by Gardiner Sisters
February 26, 2016
The Gardiner sisters don't sound the same. Matriarch, and leader of the trio, Hailey Gardiner's voice weaves and bends, revealing at each turn fresh color and flavor; younger sister Allie sings clear and mid-range, her voice pure and singular as a melody. And youngest of the three sister songstresses, Mandi rings on high, wielding the perfect, final complement to her elder sisters. The result? The polished pop EP Better, which dropped in November 2014.
Veterans among YouTube's slew of talented, emerging young singer-songwriters, the Gardiner Sisters have been long followed for their groovy acoustic covers of popular songs, like "Counting Stars" by OneRepublic and "Happy" by Pharrell Williams. Their success also goes to show how important YouTube, the site people just can't get off of, has now become in discovering fresh talent in the music world. And here, the sisters' third EP, following their 2009 Gardiner Sisters and darling 2014 L.O.V.E., pries even deeper into their capacity for rollicking, surprisingly masterful pop.
Indeed, songs like "Better," the leading anthem for confident relationships and even stronger breakups, gets the ball rolling with rhythmic echoes and a spectacularly thumping bass. "Happily Ever After" takes the stage with a wink and a shrug, taking breakups to the beach, where the bright sand wedges between your toes as the music plays. It's definitely the catchiest song in the bunch. Then, sunny skies take a drastic turn as the sisters--Allie especially, who carries the song--showcase a surprising capability for broken drama. Filled with knocking beats, a flowing piano line, and perfectly framed lyrics, "Stay" moves like a river, dark and uncertain, and full of the movement of water. To string it all together, "Rock With Me" is a punchline with jamming electric; it's full of classy footloose to get you on the floor and moving.
Where the first three songs deal with relationships and moving on, either with bravada or in the arms of a pleading ballad, it's clear the Gardiner Sisters have evolved, continuing to shape their songs around effortless guitar rolls and classic, basic beats. They face the world like the three young, bright, independent young women they are, searching for love, and finding their way through mistakes. And they don't seem to show any signs of stopping. From here on out, the Gardiner Sisters only getting better.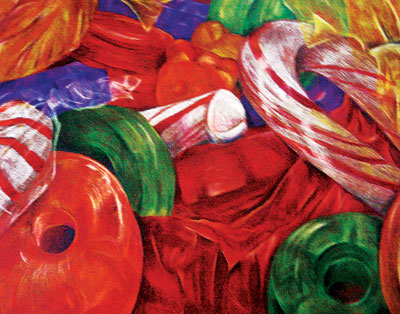 © Amy Z., Edmond, OK