Reputation by Taylor Swift
January 1, 2018
Big reputations, big reputations, ooh you and me we've got big reputations, Taylor Swift croons, in the album's second track "End Game," featuring Ed Sheeran and Future. She makes a game-changing move to confront the press's extrapolation of her love life, personality, and "annoying" "fake" quirks and friends. As she says in the individually unique magazines that accompany the album, There will be no further explanation. There will just be reputation.
As the singer says herself, she's been in the industry since her teenage years. Swift's "reputation" has evolved alongside her music, as celebrities have been linked to her romantically, and, more recently, as enemies. Now, news articles often neglect to mention her music at all, which has made a 180 from darling country to ecstatic, '80s-influenced pop. From her namesake debut, the album Taylor Swift, to Fearless, Speak Now, Red, and finally the charts-busting, glamorous 1989, Swift's empire has been on the rise, until media pressures culminated in a swift fall from grace on social media.
Here's the genius of the album everyone's been waiting for: Swift creates something bigger than herself, taking the ludicrous caricature the media has created to make art. She really does build a castle out of all the things they threw at her, and takes control of a reputation that has been spinning out of control.
Image is just part of it. After the online scandal with Kanye West and Kim Kardashian-West, Swift was painted as a "snake" for lying about acting innocent. The picture-perfect image of America's sweetheart came crashing down: countless snake emojis flooded Swift's social media posts, and the bloggers claiming she had "too many boyfriends" exploded simultaneously. The effect doesn't feel distant. One of my classmates Photoshopped her face onto a snake for a presentation, and a teacher remarked "seeing Taylor Swift" when the topic of conversation came to snakes. Swift disappeared from the web, only returning in fall 2017 to take control of her "narrative." After releasing a series of distorted, tense videos of an awakening snake, Swift turned the historically evil sigil (Slytherins, unite) into glittering jewelry, microphones, and posters. Now, the snake is the symbol of her new music era. If someone posted a snake on her photos now, you wouldn't be able to tell if it's a hater, or a fan embracing the new look. Regardless of whether or not you like the singer, the logic is smart. The shockingly satirical music video for "Look What You Made Me Do," the first single off the album, only speaks for the star's sense of awareness. At the end, multiple Taylors are lined up in an airport hangar, dressed in notable looks from past music videos, critiquing each other by echoing lines from haters on social media.
What built her empire in the first place, then? Well, the music. Swift's talent didn't evaporate when she switched music genres on iTunes. She's become even more formidable with time and practice, layering vocals and experimental sounds to channel a flowering stream of songwriting. And those songs--intensely detailed, specific, which only makes them more genuine--have made her albums sell. Her music feels universal. Even the undercurrents in reputation are not inaccessible; feelings of betrayal, self-doubt, burning bright love, and what happens when the world turns against you have never been more relevant in an age of petty Internet personas, keeping "receipts" and keeping score. Swift writes with soul and heart, betraying an empathy that would have made her writing impossible otherwise. Like her response to the 6-word-story challenge, My diary is read by everyone, the essence of her life--all her emotions in words--she's made baringly public, for better or for worse, effectually showing countless they are not alone.
But those same fans may look at the new album with its stark, smug black-and-white cover, and wonder if it's the same girl they followed into womanhood. Some may fret about the first appearances of drinking, drugs, and lust around the edges of her songs, where they didn't before, the first condemning signs of celebrity corruption. Here's my conclusion: Swift is in her prime.
"...Ready For It?" showcases Swift's amazing ability to spin rhymes that border on rap, and paint dark, secret fantasies; "End Game," featuring Sheeran and Future, is a swaggering, impossibly cool collection of three voices; "I Did Something Bad" creates a bitter view of the world, noting, hauntingly, They're burning all the witches, even if you aren't one; "Don't Blame Me" is the popular night paradise, filled with zooming new sounds; "Delicate" is a faceted jewel, echoing Swift's own insecurities, reduced to a woman with a stained reputation; "Look What You Made Me Do" is like an exciting film noir, coolly turning the tables; "So It Goes…" is the fascination of one moment, fleshed out into a thousand; "Gorgeous" is the bubbling, cheerful jewel that gushes a crush; "Getaway Car" is one of my personal favorites, flying fast with the image of classic runaway lovers, hurtling rhymes, and one catchy beat; "King of My Heart" is the heart-expanding story of falling in love, again; "Dancing with Our Hands Tied" spins with dizzy wonder, and worry; "Dress" simmers and blurs with anticipation and desire; "This Is Why We Can't Have Nice Things" is the answer to 1989's "Bad Blood," a revenge anthem for friends who can't keep their word; "Call It What You Want" is the cool, contagiously honest ballad of a woman in recluse; and "New Year's Day" surfaces from the madness, the heartbreak, and the glory, reflecting only wiser.
As Swift hints on "Call It What You Want," the past year led to some dark moments for the singer. For those who Swift defensive, angry, and emotional, she's kind of got a right to be. The way tabloids, magazines, and websites have pried into her every romantic encounter are almost unparalleled by any other celebrity (are you supposed to have a boring love life in your 20's?). The effect should be laughable, but it's also alarming. And it comes from sexist roots: like Swift's frequent music video director, Joseph Kahn, says, people don't know what to make of a smart, articulate woman. And people don't know what to make of a woman in power, emotional and economical power, over the roaring music business and half America's teenage hearts. The result is pointed vocabulary about her actions: that she complains, attacks, revenges, and seeks "getting back" at the men she's used to throw away. Swift's own songs respond to this vocabulary, hinting at the "kingdom" she used to rule, herself as an "American queen," and her love to be the "king" of her heart.
She's held to a double standard women often face, bashed for remaining suspiciously silent during the 2016 presidential campaign season, when celebrities were counted on to endorse Hillary Rodham Clinton. At the same time, her pop culture "nemesis" West could be found posing in a picture with much-hated, much-adored, now-president Donald Trump. What would have happened if Swift was in a picture with Donald Trump? The singer receives criticism for every other little thing, her "annoying surprised face," good girl look, famous friends, and photogenic celebrity "squad." My sister avoids talking about Swift altogether, complaining I get "triggered" about it. Most of the time, I feel like I'm talking to closed doors. People seem to be too set in their contempt for the singer, and when you're set on seeing things a certain way, anything a person does can seem annoying.
My personal takeaway is this: I think you'll like the album, if you focus on the album. It follows the lines and ridges carved by pop rebels Halsey, in her rioting debut, Badlands, and characterization masterpiece Electra Heart by Marina and the Diamonds. But if you're set against the artist, why bother? It frustrates me when people insist on clinging to things they hate, actively working to deface them with loaded comments. Especially music, which is so personal and introspective, and speaks for the person who wrote it. It drives me nuts when someone cherrypicks "favorite songs" from an artist they still take the time to tear down. It's not easy, but I think it's a better use of our time when we just focus on the things we love, and turn away from the things we don't. Those artists need your support and attention. As for me, I'm for Swift's reputation.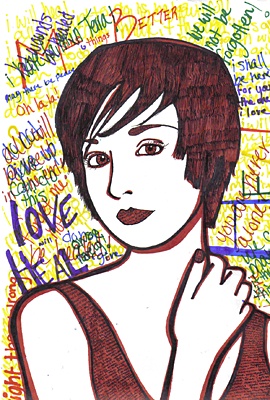 © Sara D., Aiken, SC