Blue Neighbourhood by Troye Sivan
January 2, 2018
Troye Sivan debuts his first full-length album, after already accumulating a hefty following on YouTube.
There's a reason artists keep coming back to colors--every kind of artist. Blue, "the most human color" according to Regina Spektor, has all the human layers of complexity, representing sadness (the sad little blue emotion in Inside Out), and the norm (saying something came "out of the blue" is like saying something is an outlier to the mainstream, the everyday). Troye Sivan's debut is like a painter's palette, with every shade of blue laid bare. And we spend our time in the Neighbourhood indeed: the opening track of "Wild" is ecstatic, the anthem of a lucky hometown, while children's choirs provide riff raff in the background. Sivan's music feels personable, like his all-consuming loves could happen next door.
It's atmospheric, rich, best swallowed in one sitting. Sivan has a cinematic sadness that captures dreamy youth. "Bite" is filled with tension, and all the feelings of vertigo when falling in love. Sivan communicates the vulnerability of placing your heart in another's hand, and that feeling is reflected in "Fools," a maxed-out celebration of sound with neon, rugged instrumentals, as Sivan struggles to resist bad boys who live on the street. "Heaven," one of my favorites featuring Betty Who, really does feel like heaven, reaching, cloudy, climbing; Who's voice, slender and tentative, is mesmerizing against Sivan's. And "Suburbia" brings everything back to the things that makes a house a home, like Mama's good eats and the history on these streets. The final track on the deluxe version, "Wild," features Alessia Cara, bringing together pop's brightest emerging voices together. Cara's voice is beautifully rich, in a totally different way. Every song is part of this awning, reaching sound, out of which Sivan's voice weaves in and out like a stream of consciousness. And while every song is some color blue--if the color was a sound--each song is its own unique jewel, that creates a complete portrait of lovestruck, lustful youth.
Sivan embraces a sensual, sensitive sound, even when it feels like young male artists are pressured to distance themselves as much as possible from femininity, as if it were degrading. The result is a fearless beauty. Sivan's voice is so lush, so carefully sculpted that he can narrate anything. Emotions run high, over synths whose production value runs at the same level. Sivan's sense of self is what makes the album work, like a collage of pastels, or a vividly gorgeous walk down memory lane. Looking toward the future, whatever he does next, it's going to be magnificent. Looking back, we'll miss this blue neighborhood.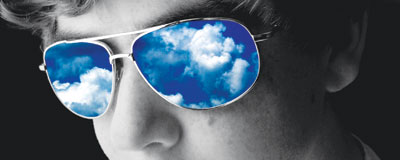 © Joseph B., Mesquite, TX