Digital: A Love Story
April 29, 2015
I stumbled upon Digital: A Love Story by accident. It was a Wednesday and I was bored. An extensive list of the best free PC games to pass the time linked me to its website, and I was interested. The screenshot depicted gameplay unlike I anything was accustomed to experiencing -- the interface of a computer from "five minutes into the future of 1988." The website spoke of saving the world and Internet conspiracies, and immediately I was intrigued. The gameplay would only last around 2-3 hours -- long enough to provide a satisfying plot but short enough to avoid being overly time-consuming. So I downloaded it.
Needless to say, after those 2-3 hours, I found myself staring blankly at the screen and wondering why I hadn't heard of this game sooner. Digital: A Love Story is an independent visual novel developed in 2010 by Christine Love. With its simple aesthetic yet complex storyline, Digital is in essence, as its title suggests, a love story. This game becomes incredibly personal  as it asks players to enter their own names in order to connect them into the gameplay itself on an intimate level. Unlike most strategy or plot-based games, the protagonist of Digital isn't one of the creator's characters but rather the player xirself.
As a child of the 21st century, I was unfamiliar with the pixelated interface presented to me when I booted the game. Digital allows the player to progress through its story with a message system as well as various online Bulletin Board Systems (BBS) summoned by the player's modem. These tools confused me at first and gave me trouble for the first hour or so of my gameplay. After I mastered them, however, I barely took them into account as I hurried along in the hopes of advancing in its story.
Digital is not without flaw; even the best creations rarely are. Due to its linear plot, this game is not for those who enjoy alternate storylines which emphasize the importance of the player's choices. No -- but as an interactive work of fiction, its singular story is in fact consuming enough to be recognized more as a novel than a choose-your-own-adventure game. Digital is also not very user-friendly. Progression through events usually relies on regularly checking each BBS for updates or hitting the reply button for a message the player cannot even compose. The numerous times the player has to dial an individual BBS can become tedious. The gameplay has frustrated me more than a few times. However, although these annoyances do count as flaws, they also enhance the experience of using such an outdated system to solve puzzles and thus emotionally connect the player even more. Complete with an appropriate soundtrack, Digital invites the player to become thoroughly engrossed into the game.
At once a heart-touching romance as well as a technological strategy game, Digital: A Love Story is a whimsical work I highly recommend playing. By the end of the journey, players will have become emotionally invested in a digital universe they have already become a part under the guise of an anonymous persona. It may not change lives, but it is free, accessible, and definitely worth a try.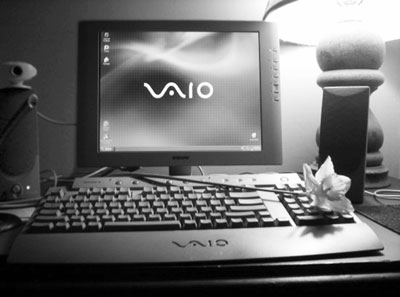 © Audrey W., Oneonta, AL