Fran Bow on Microsoft Windows
MAG
November 27, 2017
Blood. On the walls. On her parents. On everything. The forest was quiet and dark, ignorant to what she had just seen. The night was frigid, the cold bit at her skin like a wild animal. She wasn't running away from anything, wasn't running toward anything. Just running. Her breath came out in ragged pants, scraping at her throat like claws. Her legs gave out and she was on the ground falling. Falling. Falling.

"Wake up, Fran."

Meet Fran Bow, a curious 10-year-old girl thrown into an insane asylum after witnessing the brutal murder of her parents. This video game, named after its main character, follows Fran's eerie adventure as she sets off to find her missing cat and make it back home to her aunt. Created by Killmonday Games, this horror game is unique in the sense that most of its scary aspects come from the darkness woven into its recurring motif of how children regard the world. Childlike wonder combined with a plotline saturated with gore is a match made in Heaven, or more accurately, Hell.
"Fran Bow" has a simple point and click gameplay and it allows you to explore the fictional world our characters live in. In "Fran Bow" the player can interact with, collect, and combine various gadgets you find to solve tricky puzzles. The graphics of the game pair perfectly with the story as they are roughly drawn, almost as if by a child. The cartoonish art style is similar to Tim Burton's and as childish as it is, it is equally as haunting. The game itself is almost completely silent, without any dialogue whatsoever. This isolates the players and they can relate to Fran, as she is just as alone and scared.

"Fran Bow" is a game that has garnered love and passion from its many players. Receiving a 10/10 rating from Steam, "Fran Bow" has climbed up the ranks, and rightfully so. Adam Smith, a reviewer on the site Rock Paper Shotgun, writes, "'Fran Bow' made me smile more than any other game I've played this year." Although Fran Bow is incredibly dark, Fran is full of such innocence and cheer that it's hard not to smile. Joel Couture on the site Indie Games writes, "['Fran Bow' is] gut-wrenching and heartwarming in equal measure, it's a jarring experience in witnessing true horror when you're truly innocent."

"Fran Bow" is pure insanity locked inside a whimsical box made of stunning artwork, enthralling plot, and intense emotions. Your heart will twist into knots and drop as you follow the winding story of a little girl lost in a big, big world.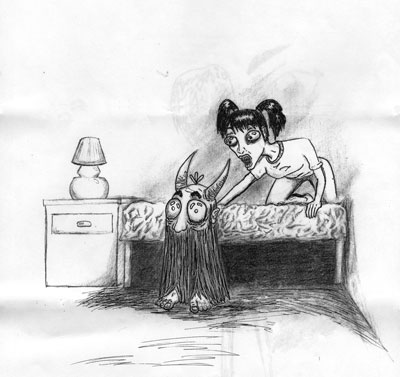 © Jasef I., Norfolk, VA