Blended Voices
February 21, 2012
Thinking of the night you were broken and I was there
when nothing else mattered
but the fact that we weren't going to sleep
and we weren't going to think.
When I opened up to you
like I'd never opened up to anyone before.
And then,
the next morning,
the magic spell broke
and it was like a bubble popping,
never whole again.

Thinking about all those car rides to my house.
Sitting in complete comfort with you.
No rules,
no expectations,
no confusion.
Nothing.
Just an unforced conversation
with unforced smiles
and unforced laughter
for the first time in my young life.

Thinking about all those songs
sung out loud
and in my head.
Songs of hope.
Songs of freedom.
Songs of redemption.
Songs of life,
of love,
of sadness,
of sorrow,
of something more.
Songs that showed me that you understood,
even if nobody else did.
That you would be there.
That you were on the same page.
That you cared.

Thinking of all those facts
whispered in the near silence,
sung into the lyrics of a song,
trusted in a secret
spoken out loud for the first time.
Showing my trust for you.
Showing that I'm also broken.
Showing weakness to you
even when I show it to no one else,
not even myself.

Thinking of how much I miss you.
Feeling stupid
because I hardly know you.
Feeling hopeless
because the chances of you feeling the same
are almost nonexistent.
Confused
because I'm not sure what my feelings are for you.
Friendship
or something more?
So many things have failed for me before.
Why would this be any different?
Why should I even try?
Why should you, for that matter?

Thinking about these circles I keep running inside my head.
Thinking of the possibilities,
the missed chances of the past,
the heartbreak,
the hurt,
the tears cried in the dark,
the times spent alone
watching everyone else with that special someone.
I just want my friend back.
I just want you.
I just want things back to how they used to be.
Simple.
Easy.
Unbroken.
Unforced.
Uncomplicated.
Perfect.
If only in the confines of my room and your guitar.
Voices blended into one.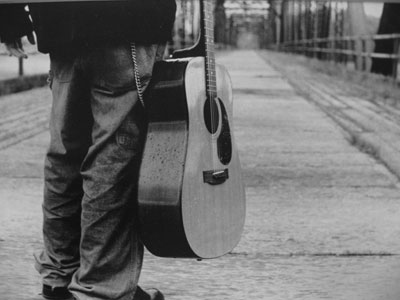 © Bailey M., Eagan, MN