Open Eyes and Wonder
October 31, 2010
I stepped out of the gray colored elevator into the hall. In front of me stood a golden, oak-colored wall that said "Maternity". Walking to my right, I pushed a calling bell that had a camera attached. When I informed the receptionist who I was, the doors unlocked and I pushed open the entrance to the day that changed my life. I stepped in and a green carpet with black speckles welcomed me. The walls were the color of oatmeal; the lobby smelled like witch hazel solution and diapers. After I walked through the halls for about half a minute, I found the secretary at the reception desk and informed her that it was my last day of volunteering at the hospital that summer. She spoke words of sorrow and repeatedly said that she would miss me terribly. I shared with her my feeling of not wanting to leave the hospital, and proceeded to my daily duties for the last time.


Throughout that summer, the nursery had always been a sacred sanctuary for me. It had comforted me during some of the worst moments of my life. I had experienced three deaths through the course of those two months, so seeing the miracle of life happen in front of my eyes everyday had often left me in awe. When pondering upon this fact, I was called into the nursery to assist a nurse. I handed her some papers and arranged some mustard-colored binders for the new patients because it had been a busy day. There were about ten babies born within four hours; two of them were twins, and the nurses were running a marathon to finish all the work ahead of them. As I turned around after putting away the binders, I noticed one of the twins: twin B. Since it had only been about an hour after his birth, he had not even opened its eyes yet. He was about a foot and a half in length, cream in color with a head full of black hair. Suddenly, there was a slight twitch in his eyelids. His eyeballs moved. The miniature eyelashes fanned, possibly creating the slightest wave of wind possible. His blood-red lips quivered. Slowly, he opened his pale eyes: inside were two perfectly round blue balls staring at me with wonder. A subtle smile appeared on his cherry-red lips that seemed to say "I like this place so far." These few seconds sent a comforting wind through me that blew away my past and put a clear future ahead of me.


My future, I realized, was determined then. I finally understood my calling. I was destined to work in that environment where each day creates a sense of new life within me. The atmosphere does not call for the same repetitive tasks that await me each day, rather a new person, a new life, and a new story. I was meant to be a nurse practitioner surrounded by these true joys of life. What more could I ask for than to help people make the most brilliant of memories? My patients trust me to shape the most personal aspects of their lives. How could I ever be more honored? How could I ever be of more help to anyone if not by making that day the most special of all days? I walked out that day leaving behind the pain of the summer, but ever so tightly holding onto the treasured lessons I learned from the experiences. Sharing those few precious moments with my twin B enabled me to realize my passion for working with children. When I stepped into the car at 2:30 p.m. that day, I was certain that I wanted to repeat that same delicate moment I had with that cream-colored twin many more times. The story simply cannot end with that single occurrence because; how wonderful it is to share the very first moments of a newborn's life.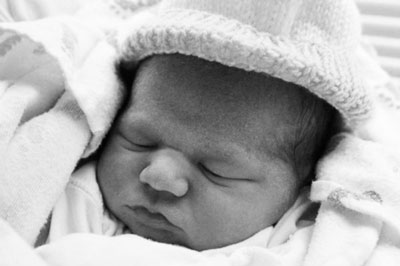 © Kaelee L., Petersburg, MI