My Atkai
MAG
A wise man once said, "In order to know yourself, you have to know those who came before you." That man didn't just say those words; he lives by them, and I know this because that wise man is my grandfather. In 1996, he immigrated to the United States with the sole purpose of caring for me and my sister. The decision to leave behind 65 years of family history and relationships was understandably difficult, and my grandfather was forced to fit his entire life into two suitcases. The first one he filled with clothes and books; the second with hundreds of photographs - faded memories of long-lost relatives gazing at us sadly. As I thumbed through the prints with my grandfather, I saw his face light up with a yearning to return to those happy times.

In Russia, the affectionate word for grandfather is atkai. It's a word that conveys boundless respect and adulation. When I was growing up, he was both my teacher and my playmate, my mentor and my friend. In the Soviet Union, he had published over 50 articles and held a PhD in microbiology as a respected veterinarian for 40 years. In the United States, he was reduced to bagging groceries for minimum wage so my grandma could get health benefits. Even so, he would devote every free moment to studying English with me, determined to keep me from falling victim to the crippling restrictions of a language barrier. As I grew older, our English lessons became more one-sided, and by high school I was helping him understand some of the bigger words in The New York Times (he considered himself too worldly for our local Chicago Tribune). All the time we spent together gave me lots of opportunity to bother him with questions about our family.

Some of the photographs he showed me were from the nineteenth century, and as I looked at the somber faces, I came to a sad realization. Everyone had long departed from the Earth, taking their stories and memories with them. I examined these pictures with the investigative stare used for reading history books, not the reminiscent gaze that comes with seeing old relatives. And I realized that I couldn't look at these people as relatives because I knew nothing about them. For everything that my family had gained moving to America, I had lost any connection with my ancestors, and therefore a part of myself.

My grandpa refused to let this happen. "The most important thing you have in this world is your family," he told me, "and when I'm gone, the most important thing I can leave you is your heritage." Over the next two years, he would commit hundreds of hours to fulfilling that goal. He made it his purpose to write down everything he could discover about our ancestors so that future generations would know. He made hundreds of long-distance phone calls, annoying indifferent relatives. Two years and 250 pages later, he still continues to write.

The most gratifying part of helping my grandfather with this project is the knowledge I've gained during the many hours we've spent together. I've learned so much about my ancestors, and consequently, I've re-evaluated the importance that family has in my life. Those seemingly distant faces in the old photographs have come to life with an air of warm familiarity. Last summer, I even made the trip to Russia to meet relatives and visit the graves of my great grandparents.

I've learned that my heritage is a part of me no matter where I live. An ocean cannot separate me from the ties I have to my family all over the world. But most importantly, this experience has given me an opportunity to spend time with the family I have right in front of me. And it doesn't take a wise man to see the value of spending time with my atkai.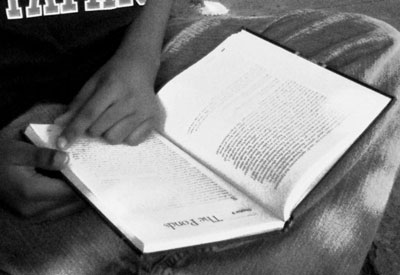 © Anonymous