Flying
MAG
October 29, 2008
The life-size castle had a slide and two floors; my daughter would have to have it. We were 10 years old and leafing through the Toys "R" Us catalog, picking out toys we would buy for our children. We sat on our knees around the coffee table, drinking from coffee mugs filled with water. We were successful women at our daily meeting. We talked about our gorgeous husbands and well-behaved children. We discussed the latest gossip, the newest restaurants, and arranged playdates for our kids. We promised each other that this was how our lives were going to be.

Then I got a little bit older. I was graduating from eighth grade. This time I was in a real coffee shop. We were growing up, drinking hot chocolate instead of water, but our conversation hadn't changed. We were going to go to college together. I would study art, and my best friend would study design. Then we would open a business in the city. My friends had different dreams, but we would all go to the same college. We would live in the same dorm and be roommates. We promised each other this was how it would be.

My interests and areas of study have changed many times since. I've become ­involved in a number of activities that have opened my eyes to new possibilities and ­options. My friends are the one part of my life that has remained constant. I would do absolutely anything for any one of them, and I know they would do the same for me. In the case of a broken heart, a silly argument, or a difficult test, I am always the first to help. Being there for my friends comes first no matter what else I have to do. I can tell when one of my friends is upset, and I can predict how they will react. If I am not with my friends and something exciting happens, it would be inexcusable to go to bed without calling every one of them with the news.

I'm growing up fast. Junior year is almost done. We're sitting on the couch watching a movie. I'm drinking tea. A few of my friends are drinking coffee, but my mouth still hasn't adjusted to the taste. College is just around the corner, but our childish talks and plans don't seem so long ago. In fact, we're still having the same discussions. We probably won't go to the same college – that would be impossible – but we could be in the same state. We will talk every single day. We can meet on weekends and come home on holidays. This plan is just as good.

Now I am ready for college. I am ready to meet new people and have new experiences in new surroundings. I am ready to leave high school and take classes that will expose me to a higher level of learning. I am ready to live on my own. But I am not ready to leave my friends. I won't be going to school with any of my best friends, and we won't be in the same state ­either. I probably won't see them on weekends, but maybe on holidays. I might not have time to call them every night, but every other night is possible. Maybe on the nights I am not talking to friends from home I will be making new ones at school. I hope I will become as close with these people as I am with those I have known for years. Maybe if I'm lucky I will meet a few with whom I can sit down and share a cup of coffee.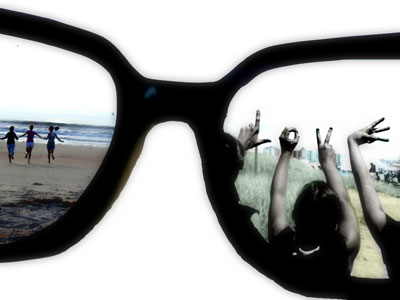 © Christina G., Bedford, NH