Failure
December 18, 2014
There is only one time I can think of that I experienced failure. It was in 2010 and I was at the recognition ceremony for the Prudential Spirit of Community Service Awards Ceremony in Washington D.C. This ceremony was the last big thing of our time in D.C. and was definitely the most important to us. Moreover, for 10 kids, what they found out during the ceremony would change their life for at least a little while. The ceremony would tell 102 children which 10 were worthy of being National winners for the award according to Prudential. We had all done fantastic projects and activities to get us this far and we all wanted to get the national award.
The presenter started announcing the Middle School and High School winners in random order so we never knew who would be next. It was suspenseful for everybody in the room, myself included. I was sitting there thinking about what the kids who had already been called had done, what I should say when (and if) I get it, and I have no idea what else. However, I was intently focusing on what I would do if I got the National Level award. I did so much so that I was not really paying attention to those who were being called, unless I met them over the week. Moreover, after each spot was filled, I would quietly calculate the odds of me getting it because I felt that I did a great project and deserved to get it. That is what I thought, and that is what I stuck with.
However, Prudential had a different idea about what would happen and who would get the highest level of the award that night. The suspense and tensions rose as there were less and less seats left on stage. At least they did in my mind; I cannot speak for anyone else about that. They rose so much and I was so focused on that possibility of getting it that I was dumbfounded at the announcement of the last name. I did not get it. In addition, I was very upset and saw it a failure on my part because I did not get it. I thought that my project was great and deserved recognition. However, in retrospect, after some time and I calmed down about it, I saw that my project was indeed less than those who received the National Level award.
In time, I saw that my odds were actually bad and I was not sure why I wanted it so badly, and was hurt when I did not get it. In time, I learned that those who got the national award really were not much different from the rest of us. All they had was $5,000 to give to a charity, a crystal bowl-trophy thing that was to go to the organization that nominated them, a heavy gold medal from prudential, and a slightly different certificate than everyone else.
I learned that the greatest satisfaction of doing community service is not what people give me credit, awards, certificates, and other things for, the greatest satisfaction is found inside me. It is knowing that I was able to help somebody or something (an animal) in a way that not many would. It is knowing that I made a difference in somebody's life, and I do not care if they know if it was me or not. I learned over time that I do not need or want recognition for helping and volunteering, I am not the kind of person who wants the spotlight and wants the big awards. I just want to sit back and watch as a person's life is changed in a good way, at least for the rest of the day. So yes, I experienced failure, but from that failure came the greatest teachings that would change me and help me discover what I am all about.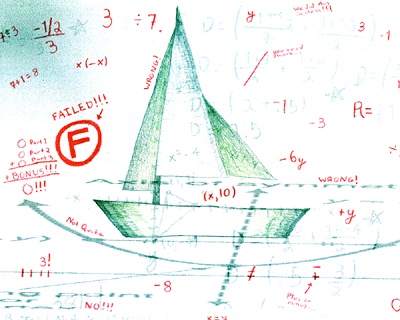 © Steven R., Binghamton, NY