From Blue to Red
March 23, 2022
From Blue to Red
"What if?" "What about?" "Who?" "Is it over yet?"
The never-ending grip of fear squeezed my brain. I could not control my thoughts.
The news flashed and blared warnings and signs and propaganda I had never seen before. We packed up all our belongings and food and fled to the woods where my grandma lives. I cried and baked… I stared blankly at trees and let my mind spiral.
But, like the clouds parting after a storm, my mind eventually cleared. I began to analyze the circumstances around me for what they were. Found others willing to talk. I took my life in my own hands.
I learned to defend myself, both physically and mentally. I took a breath and pulled the trigger; I was a straight shooter.
I read. And read. And read. I found out the truth:
Everyone lies.
I used to consider myself a liberal, as left as they come. Fight for 15! Equal rights! Jill Stein! Green party! Feel the Bern! I shook Tulsi Gabbard's hand.
Life is cruel. As soon as I could stand on my own two feet, they cast me out. My critical thinking was not welcome. I pried gently at their ideals, paralleled our circumstance to others in history. I told them it didn't work. Never in history was there a situation where everyone followed the same rules; they wouldn't listen.
So, like a lamb led to slaughter, I did as I was told. I shoved the fire and truth deep down, letting it out only in the company of the open-minded. I burbled like a coffee pot, brewing and stewing on what I had learned, mumbling my mantras to myself.
I decided to go back to school, in an attempt to unite myself with new people.
I did.
Everywhere I looked I saw the same expression of smothering that I wore on my face. Well, on the part you could see anyway.
I met more and more people. Like-minded, rational people, from all walks of life and backgrounds. The vaccinated, the unvaccinated, the mask wearers, the anti-maskers. People who let me make choices for myself and made choices for themselves.
That is all I want, you see. To do what's right for me. To smile at someone and have them return it. Or to sneeze in public and have someone say "bless you" instead of looking at me like I was a dirty rat. That's just what I want for everyone.
I want less judgement and as of right now, I find that freedom in a party I thought I would never be a part of. Perhaps that will change again and I'll fall back into the arms of the donkeys; but for now, I run with the elephants.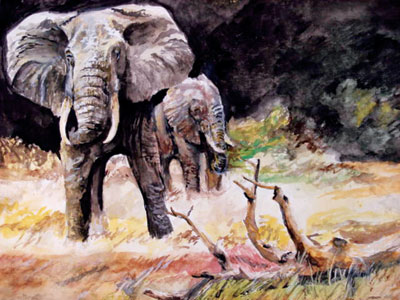 © Daniel A., Monte Vista, CO