Military Pride
January 15, 2012
After sixteen long hours in flight, the airplane safely landed. He is finally home. His family is patiently waiting inside for him to come sprinting through those double doors with a huge smile on his face. It is the first time he has set foot in this country in three years. When he left, his wife was pregnant, about ready to have their baby. Now his little girl is three years old, waiting to meet her father for the first time. His ten year old son is anxious to play ball once again like they did before he left to serve his country. Most of all, his wife is happiest because she is the only one who understands that when her beloved husband left three years ago for Iraq, there was the possibility she would never see him again. She knew he had a passion to serve his country regardless the price.
John F. Kennedy stated, "Let every nation know, whether it wishes us well or ill, that we shall pay any price, bear any burden, meet any hardship, support any friend, oppose any foe, to assure the survival and success of liberty." People who enter the military receive extensive training, spend numerous hours and give endless effort to become the best but they also know there is a possibility they may never see their family again. When people complain about our military, they fail to understand that without the sacrifice of our young soldiers, the next generation would not be able to enjoy the freedom we enjoy today. These men and women take pride serving our United States. They wake up in their cold, dusty barracks; empty, lifeless rooms to fight day and night for our freedom.
Veterans take pride in serving in our military as they walk down the street and are recognized and thanked by those they don't know. They also take pride because they forever know in their heart and mind that they served our country in the best way possible. They will always have a sense of accomplishment because of the honor associated with serving in our military. When serving, you are placing the freedom of the United States above your needs and wants, your necessities and pleasures, your daily desires. There is no greater honor than to lay your life down for our country. The veterans that come home will be forever changed from when they left. House Representative Mike Ferguson once said, "Although the war in which you fought took place more than half-a-century ago, your courage, your sacrifice and your patriotism reaches through the decades and inspires us today." Fighting in our military is a life changing experience. The men and women obeyed the call, laid their life on the line and fought for freedom.
The doors finally swing open with a huge rush of air after the family had so patiently waited. He, along with the remainder of his team, walks through the huge double doors. He has a giant grin on his face because for the first time he is able to meet his precious baby girl. He hurries to his two beautiful children, bends down and gives them the biggest hug he could ever give. His wife tears up at the sight of her husband's love for their children. He jumps up and hugs his faithful loving wife. The family has never been happier; the soldier has never been more proud.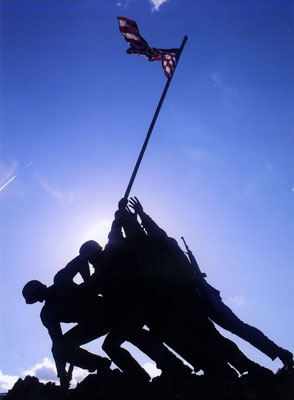 © James M., Glendale, AZ