Purple Paint
August 29, 2008
Entering the lower ninth ward of New Orleans is a brutal wake-up call. Window boards that residents put up before Hurricane Katrina still remain on crumbling houses. Now the wood is graying with a thousand days of age.

August 29th was the third anniversary of Hurricane Katrina, a category five hurricane that caused about 81 billion dollars in damage, making it the costliest in US history. Katrina killed almost 2000 people and left thousands more stranded in New Orleans as the levees broke and the city flooded.

This summer, I spent two weeks building houses in St. Bernard, a hard-hit suburb of New Orleans, through Habitat for Humanity and my summer camp, Frost Valley YMCA. Since Hurricane Katrina, 60,000 volunteers have built over 100 houses since Katrina, with 160 undergoing construction and a goal of 180 more this year.

For the twelve of us, days were long and the work was hard. We woke up at six to get to the worksite by eight and we returned half-asleep at four.

We worked on two elderly women's houses. One of these women, named Bernice, showed our group a wrinkled photograph of her old house. It was modest and made of brick, and there were flowerboxes in the windows.

In the aftermath of Katrina, "the water flooded up to the ceiling," she told us, and she had nowhere to go. The government sent Bernice to various places around the south for two years. She lived in hotels and never "knew where [she] would be sent next," she said.

She finally moved to a FEMA trailer next to the worksite of her new house, and now lives with her niece across the street. My group helped to put the roof on Bernice's new house. It will be a large improvement from her trailer where she, "was scared every time the wind blew on the walls".

The FEMA trailers that were supposed to be temporary are still home to many victims of the storm. They have been found to contain formaldehyde, a toxic chemical. They are hot in the summers and cold in the winters. Miss Edna, the other woman we helped to build a house for, has lived one of these trailers for three years.

These two soon-to-be residents, like many others, have had little say in their life the past few years and are more than thrilled to be back on their feet. Buying a new house from Habitat is possible because residents pay only for the cost of raw materials.

We spent four days painting Miss Edna's house shades of purple and tan. "Do you know why this paint is special?" Miss Edna asked the twelve of us one morning. "It's special because I chose it. Its mine. I hope you have some idea of what this means to me." Bernice's neighbors us showed their thanks by making us gumbo for lunch that filled the house with smells of Cajun cooking.

It is all too easy to forget these broken neighborhoods and their determined residents when you walk through the unharmed parts of the city. The victims' grim realities seem worlds away from the French Quarter's flashy Bourbon St. and the famous Café du Mond.

Though we may want to forget the painful truth, we must remember it. We must remember it because thousands of people along the Gulf Coast are reminded of Katrina daily. When the levees fell, so did they.

When the floodwaters were drained, so was a little bit of their spirit. But the hardworking citizens of New Orleans, Louisiana are bringing the spirit back as they journey to recovery.

Many years from now, the people on our trip will forget each other's faces, but we will never forget the houses we built and the people we helped to stand within them. For more information on volunteering with Habitat for Humanity New Orleans visit www.habitat-nola.org.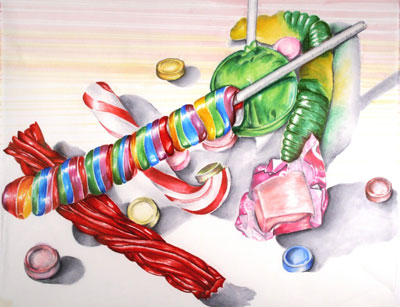 © Jamie B., Fairport, NY