The Love of a Community
February 9, 2018
"Okay, we are here kids."
The ride there was distinctly long and we were becoming impatient to know and see what we were headed to. There were a profusion of run-down houses that appeared depressed. As the seconds passed so did the minutes and those words coming from our teacher was music to our ears.
"We are here!"
One by one, we all got off our familiar school van and began to observe the other part of society, the one everyone expunge until they come to you, asking for help. Considering our teacher was a frequent volunteer at a House a Phoenix soup kitchen, my friends and I were just exploring every corner of the location that changed hundreds of lives. There was food, tables, and trays for everyone, and no one left before receiving a plate filled with love.

"Hello, how are you sir?"
"Doing great how are you?"
"Couldn't be doing better!"
The assistants were very generous and pleasant, giving us a sense of protection and comfort.
We were then walked into a circle with a substantial cross watching over us.
"Everyone get in a circle to pray"
"Who wants to lead the prayer for today?"
The lady in charge was already bringing forth God which made me feel comfortable. After the prayer the vigorous lady in charge quickly placed everyone to work.
"Who is Brian?"
My heart began to pound as I knew where I was going once she had called me. The pitt. The position where not even the most experienced wanted to be.
"Good luck with that. You two are brave"
I was the runner, while my friend was actually working in the pitt dumping the food that was not eaten. Running back and forth with the heat of the hot water inside and outside the pitt, my clothing began to feel damp and moist.
As I glance at the homeless I notice how all of them are in a neatly filed order until a lady pulls me back.
"Thank you and your friends for doing this because you guys make us feel like
someone cares and does not ignore us."
Her resemblance and her words traveled to my heart like the blood my heart pumps per day and made me want to cry. We are all human beings, and we were all born from our mother; although we were all born with different parents, perspectives, and economic structures. This is why we are all living differently.

Running back and forth with the pans and pots I saw how lonely she was like most of the other homeless, however she wanted to be noticed.

I finally saw her get her tray with food and she was later on accompanied by this other lady who has been serving as well. In a very instant they began to laugh and smile. And it only takes one person to just talk to another to make them feel loved. That smile had lasted on her face until she had vanished behind the door that protested as it opened slowly.

I thought to myself. Is this what a human being can do to make someone's day? And it only takes one person to just talk to another to make someone else feel loved. The homeless lady was accompanied by a stranger who made her smile just by talking to them. I thought. My teacher was right. Maybe they just want to talk to someone and feel that somebody cares.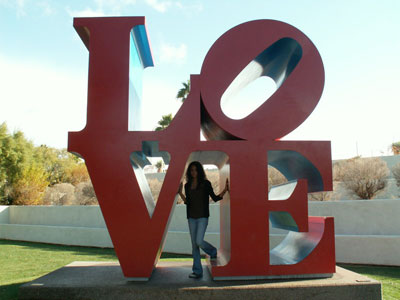 © Shannon E., Glendale, AZ