God's Earth
April 27, 2010
God created earth. He created us. He created everything around us.
Some people may not agree to any of those, but it all comes down to your beliefs, do you not agree? Every living individual has a freedom of speech, don't they? So I'll give you mine:
I believe in God, and I'm pretty sure God didn't spend time and love creating us for our selfish egos to DESTROY THE BEAUTY HE CREATED! You see adverts on the telly, showing you pictures of puppy-faced seals on floating ice rafters, or baby monkeys swinging sadly from tree branches with heart-wrenching expressions on their tiny, yet undeniably adorable faces, telling you that they are in danger. You want to help them...but you just can't be bothered to hunt down your credit card, or you won't because you are saving up for some new shoes.
Eventually, they will die out (the animals, I mean, not your overpriced shoes). Now I'm not saying nobody cares, because I'm sure a lot of people do. Maybe they don't have the time...they can't afford it...they think a petition would be pointless...they'll leave it down to somebody else to sort it out...but we HAVE TO START HELPING. Or soon, after it's too late to change anything, we'll be living in our own FILTH. That's right; it's affecting our environment too. That chewing gum you spat out earlier...you think no one will notice that among the hundreds of others on the roadside? WRONG. Humans may not notice it, but animals certainly will.
Global warming—surely you've all heard of that, right? It doesn't just affect animals—it affects us too. In bad ways. Do you want to live in your own dirt and filth? No. I thought not. So while you're reading this, just think about what you can do. Recycle...it's easy, yet effective. You don't have to try to save the world single handed. If we all contribute in some way, we can save our earth and species before it's too late.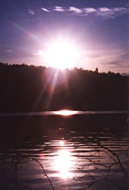 © Laurie T., Hopkinton, MA