If Trees Could Talk
December 3, 2016
I wonder what the trees would say, if they could talk.
I think that they would be sad. They would be angry. They would be disappointed, but somehow compassionate. The trees would be forgiving, which is surely saddest of all.
Trees have to watch while we cut down their friends. We do not stand tall, not like trees, but we stand strong. We stomp our feet and demand attention. Humans, merciless monsters, plow down such beautiful things, and all for what? A little more elbow room?
Surely, they weep. Perhaps that is what happens in autumn. Perhaps when the trees shed their leaves, they are weeping for all they have lost, all they have been unjustly robbed of. And we just watch them wail. We watch them mourn and we think that it's beautiful.
People are destroyers at heart. We riot through life with torches and pitchforks in our hands, leaving bones and fire and rotting flesh in our wake. It is a shame that the trees feel this gratuitous wrath. If trees could speak, if they could move, they would riot right back. Broken shrieks of despair and fury would erupt from their throats. We were here first, they would say. You haven't the right, they would say. And after all we have done for you, they would say. Their branches would blaze with fire, rage dancing in the flames. They would trample us; they would win. I would be glad when they won.
Humans are the most disappointing creation. Trees, after all of their long years, would be wise enough to realize this. Pride and greed blind us, and we do not see past what we want for ourselves. There are green monsters living in our brains, sputtering out demands for more, more, more. The monster wallows in a pool of hot blood and charred bones and burning coals. It teaches us gluttony and hate. The trees only give. They provide oxygen and shade and something truly beautiful to look at. If they could speak, they would say, you should all be ashamed of yourselves. And we should be.
Perhaps that is why trees are so much taller than us. They tower over us and we are forced to look up at them. They look down upon us with their unsettling, faceless stares. No wonder we are so small. We are inferior.
Despite all that we are guilty of, the trees express compassion. Our bodies are weak and always in need. They give us shade when we are too hot. They stand over us like watchdogs, wishing away the heat. Even so, we complain of the uncomfortable ground that they reside in; we gripe over their bark biting into our skin. We are ungrateful beasts, even when they let us ogle at their beauty while they are weeping in the sad autumn months. They allow us to scrape together the remains of their grief and they only watch as we have the audacity to play in the leaves as if they came from joy.
The trees always forgive us. It is a mystery to me, why they excuse us of all that we have done. They stand tall and strong in the summer. They thrive in the light, and we steal their existence, leaving only a stump of life before swiping that away, too. They mourn in autumn, asking what they did to deserve their undoing. We thrive in their pain. In winter they show us their wrath. They are leafless, lifeless. Bare branches cast haunting shadows over the ground, wishing they could trap us in their livid hold. But spring will always come again, without fail. The trees will forgive us, it is in their nature. They will bloom for us again, and we will remain oblivious to the absolution they grant us. Their leaves will stretch down, offering a gentle caress that can only be saying, we forgive you. I wish they were not so kind. We do not deserve their mercy.
I hope that in an alternate universe, trees are cutting down people. I hope that they are spitting in our faces, drowning us in the same pools of putrid gore and sorrow that so many of them have suffered in. I hope they are basking in the glory of their vengeance.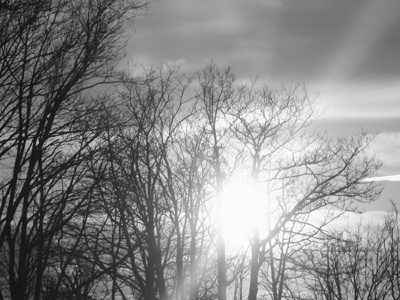 © Anonymous