Taking It Too Far
May 11, 2011
As I flipped through the latest issue of Teen Ink, I rolled my eyes in disgust at an advertisment. It promoted TeenInk.com's latest addition to their website: videos. I had first heard about this a few months ago while taking a survey; it seemed a little odd to me, but I never really thought anything of it...until I saw the ad.

When I first found issues of Teen Ink in my local library, I was ecstatic to have finally found a way of being published as a teenager. The Teen Ink website allows teens to write just about anything: reviews, poems, fiction short stories, hero and role model dedications. Recently, Teen Ink began allowing teens to post their books online for a chance at having them published. I loved all of these changes and possibilities for publication. But, now, Teen Ink has taken it too far.

Originally, Teen Ink was a website and magazine dedicated solely to teen writers and artists. It was a unique place for aspiring teen authors. But now Teen Ink promotes "Upload your YouTube videos here!" But why?

Teen Ink is an amazing magazine because, unlike other teen magazines, it allows you--the teen--to write it. The teen years are the hardest for trying to have your work published unless you happen to win a contest which may happen every three years or so, or you have rich parents. Teen Ink gives teen writers a chance to be heard and to be noticed by colleges and publishers.

But why would they want to add YouTube videos to the mix? YouTube is an online community open to anyone and everyone with a camera and/or computer. Adults and teenagers alike can submit their latest creations for the whole world to see. So why should a magazine, dedicated solely to teens, feel the need to promote the endless webpage which is YouTube?

Justin Beiber was discovered by Usher after posting videos of himself singing, and has since become an international singing sensation.

Lucas Cruikshank--better known as "Fred"--the ever popular comic genius, became an internet phenomenon overnight with his random and wacky YouTube videos. He has since released several Fred music albums, has appeared alongside Miranda Cosgrove, Jennette McCurdy and Nathan Kress in iCarly and starred in the feature-length movie, Fred:the movie.

The Whitest Kids U' Know began premeiring their comedy skits on YouTube and in 2006 were awarded Best Sketch Group during HBO's US Comedy Arts Festival. They have since begun a sketch comedy series on IFC.

Cody Simpson, Greyson Chance, Marie Digby and many other comedy and singing phenomenons have been discovered through YouTube. Making videos and posting them to YouTube is not hard; being discovered is not hard either. Whether or not you will become famous, well, that all depends; but Teen Ink should not waste their time and resources on YouTube videos. They need to focus more of their time on areas where teens are neglected.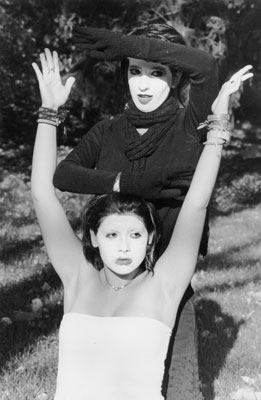 © Camila E., Bethesda, MD