So Tired of Looking for Acceptence
August 31, 2009
Monday, August 31, 2009
Have you ever felt sick of trying, sick of failure? It seems like no matter how many variables you plug into your equation, you get the same results. No matter how much you try to change, the world looks at you the same as it always did.
Put a pair of heels, a new dress, and some make-up on a geek, people will be attracted to the flashy new toy, but soon will remember how much they dislike you. You bite your tongue, hold back your sarcasm and intellect, and even try out some small talk, but it is all for naught. Your hopes are raised cruelly for a millisecond, then its all down in flames.
I'm so tired of being laughed at, rude comments, and mean people. High School isn't just an educational system in regards to facts and books, high school teaches you what to expect from the world. People encourage you to be an individual, but the moment you spread your wings, the moment you swim against the tide, someone comes up to clip your wings and tie you to an anchor.
I'm so exhausted from this stupid battle for myself, tired of hypocrites, judgements, and people talking from both sides of their mouths. But what can I do about it? I'm a part of the problem, just as cruel and judgemental as the rest of humanity. No matter how hard I try, I can't figure out how to be the solution.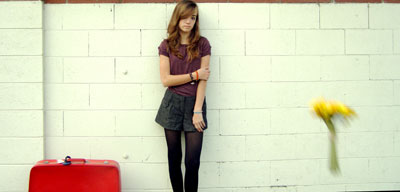 © Austin K., Studio City, CA