Me And My Questions
July 22, 2010
I'm not like other girls. I don't 'flaunt' my stuff, mostly because I don't have any "stuff". But also because I'm scared to, that I won't do it right. Maybe I should just try it. Personally though, I find it very degrading, that a woman has to sacrifice her pride to an arrogant man who doesn't fully appreciate her. I am most certainly a different teen. I don't fit in; I can't dance on boys like the other girls because I think it's disgusting. Sometimes I think that maybe I'm too judgmental. But really, all I'm trying to do is find my way.

I hate how adults think kids and teenagers shouldn't have a say in anything and that they don't know anything. Because we do! We're not just little slaves to be bossed around. That saying "Children are to be seen, not heard" is ridiculous. Who are they to say that we don't know anything? Then why do we go to school? Why do we learn about the world if we can't have a say in the matter?

I love school, I get good grades I have friends, it's not like I'm an out cast. But I'm just so self conscious. I get nervous in front of people, I turn red, and I hate the way I look. But why? Everyone tells me I'm pretty, why can't I just accept it? I walk down the halls and corridors and question myself "What are they looking at?" "Is there something the matter with me?" But I just keep on walking. I hate that I'm shy and that I'm not confident. Why can't I be normal?
I love reading and I love telling people about it, so why can't I get up in front of my classmates, my peers, and tell them about it? Why was I born with this, this curse? I'll never know, and like everyone else, I'll just have to learn to live with it. But sometimes I don't think I can.

I look in the mirror, and I'm disgusted. I look at the other girls and am ashamed. Why do I walk among these confident beautiful people? Surly I'm not worthy? But for some unknown reason I was placed on this Earth, and am forced to roam in wonder.

My life is full of opinions. Some will never be noticed, some never spoken. Life is full of questions. Most are never answered.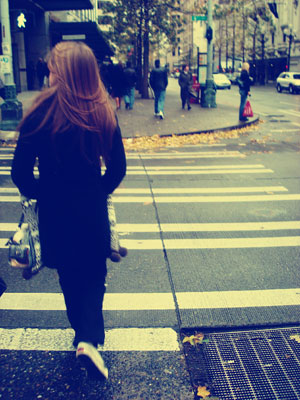 © Adria O., Edgewood, WA