Fighting the Foundation
June 14, 2013
I walk over to my mirror, then I look at the makeup spread across the counter. I pick up a hammer; the fountain bottle breaks with one hit. After examining the skin colored splatters on my mirror, I then open my blush, eyeshadow container, and glitter. I dig at them grabbing up the colorful powders; I throw them into the air and watch them sparkle as they fall to the ground at my feet. After the powder settles I unscrew the top of my perfume bottle and pour it onto the floor where it mixes with the powders. Now I am worked up, so I break the lip stick, lip stain, mascara, and makeup brushes in half and throw them to the floor as well. Finally; I use my eyeliner as war paint by putting a thick horizontal streak on each cheek.
I smile at myself in my splattered makeup mirror and walk outside to the super cute boy who was supposed to take me on a date that I got with my "good looks". He stares opened mouth at me looking at my freckles, uncombed hair, makeup stained clothes, and war paint; I just walk away down to the boy who lives across the street and never wanted anything more than a friend and we walk away to live happily ever after.

My alarm clock beeps at me angrily 2 hours before I need to get on the bus; better start applying makeup can't get a guy without at least a pound of foundation on my face. I sigh; remembering my dream from last night, we don't live in fairy tales.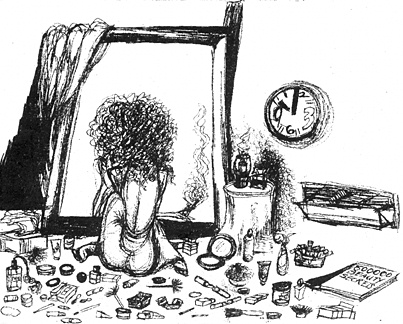 © Asha M., Philadelphia, PA